North Koreans lucky enough to own a mobile phone can now play a patriotic shoot-'em-up game on their devices – the cheerily named "Yankee Mopping-up Operation".
State-run news site Arirang-Meari says the game is popular among young people and workers alike.
Players move through various levels to collect different weapons to exterminate the Yankee enemy. They deserve what is coming to them, asays Arirang-Meari, because they "boast as if they are the emperor of the world".
Yankee Mopping-up Operation is the latest attempt by the North Korean state to channel military propaganda through video games. Military-style video games are a natural product for Kim Jong-un's government to promote anti-US sentiment and emphasise the central importance of the armed forces and defence in North Korean ideology.
In August 2017, the similarly themed "Hunting Yankee" was released for computers and mobile devices. Screenshots suggest Hunting Yankee is a more expansive, Call of Duty-style offering than Yankee Mopping-up.
"The 3D-amusement entertainment programme Hunting Yankee is a fighting game of shooting and knocking down Yankees with a sniper gun behind enemy lines," Arirang-Meari reported at the time.
"Users can perform a variety of special actions in a virtual world reminded of a cliff-hanger battle scene," it added.
NKNews reported that further games embracing Kim's military and nuclear ambitions had been developed. They included Confrontation War, Guardian, and Goguryeo Battlefield.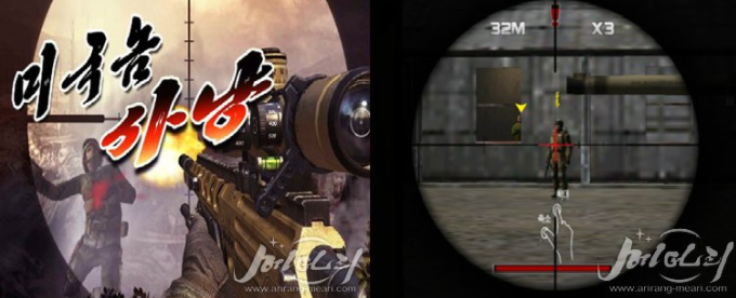 Confrontation War pits North Korean players against US submarines, which they must eliminate using depth bombs, nuclear bombs and anti-submarine rockets. Guardian takes players into a naval warfare scenario with cannons, multiple rocket launchers and mines. Goguryeo Battlefield is a historical game set on the battlefields of ancient Korea.
The emerging line of video games comes at a time when tensions between the totalitarian state and the US are at crisis point.
Both governments have traded warnings at a recent UN-sponsored conference on disarmament in Geneva about each other's potential to inflict imminent nuclear attacks.
US representative Robert Wood said that North Korea might be able to hit the continental US with a nuclear-tipped ballistic missile within months.
North Korean diplomat Ju Yong-chol accused the US of deploying nuclear assets in the region in preparation for a preemptive strike.