North Korean leader Kim Jong-un's younger sister will attend the Olympics' opening ceremony in the South this week, ministers in Seoul have revealed.
Kim Yo-jong, the youngest daughter of late leader Kim Jong-il, will watch the North and South Korean delegations march under one flag at the ceremony on Friday (9 February).
North Korea's participation in the Winter Olympics is viewed as a softening of bilateral ties, which have been fraught over the past year because of Pyongyang's series of nuclear and missile tests.
It is not the first time Yo-jong is representing Pyongyang at such a high-profile event. She has quietly been making her mark on the regime for years.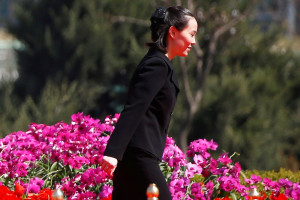 Yo-jong, 30, is considered one of Kim's closest aides and the mastermind behind the supreme leader's carefully constructed image of "father of the people".
She and her brother are said to be very close, having spent much of their childhood away from the rest of their family at a boarding school in Switzerland.
Yo-jong rarely appeared in public until 2010 when she was photographed attending the annual Workers' Party conference. After her father's death, she started rising up the political ranks in Pyongyang.
She played an important role in her brother's succession campaign, according to North Korea Leadership Watch, which was founded by US scholar Michael Madden.
Since his anointment, she has regularly attended public events and "field guidance visits" with Kim, and become one of the most visible women in the leader's entourage, alongside his wife Ri Sol-ju.
In October, she was appointed to North Korea's Politburo, the country's highest decision-making body. The move signified that her "portfolio and writ is far more substantive than previously believed," Madden wrote on 38 North, a blog dedicated to covering North Korean politics.
"It is a further consolidation of the Kim family's power," he said.
Sierra Madden, a contributor to North Korea Watch, previously told IBTimes UK that Yo-jong's appointment to the Politburo proved that "she was already powerful".
"She has had her brother's ear for a while," she explained. "Her promotion formalises the reality of the influence she already had."
Yo-jong's trip to the South this week further highlights her position in Kim's inner circle. Her quiet rise to power has not escaped the notice of US authorities, who placed her on a blacklist for "severe human rights abuses" in January 2017.
Phil Robertson, deputy director of Human Rights Watch's Asia division, previously told IBTimes UK that her ascendance "signifies what many suspected... that holding dictatorial power and systematically violating human rights is a family affair at the top echelons of North Korean government".
"As a person who apparently serves closely with dictator Kim Jong-Un, Yo-jong both oversees and benefits from the horrific rights violations being committed every day by the North Korea state," he said.