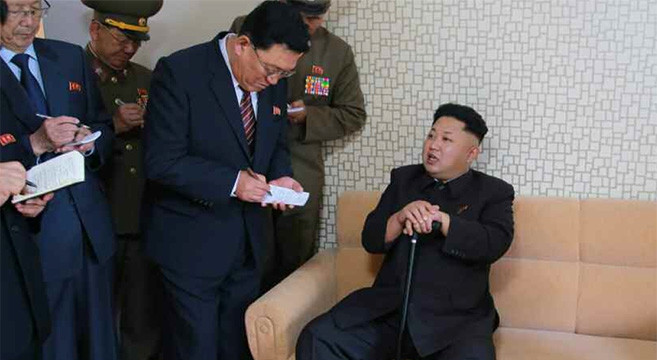 North Korean leader Kim Jong-un, who has reappeared in public after more than 40 days, has held a photo session with scientists during one of his "field visits".
Kim visited a residential building where some of the scientists involved in North Korea's long-range rocket programme will reportedly relocate.
The 30-something leader was photographed walking with the help of a cane confirming speculation that he has undergone ankle or foot surgery. The latest report does not mention anything about his health status.
"It [the reappearance] is possibly a response to the international media attention that his public absence attracted, particularly during the last two weeks. It's quite interesting that his first appearance was to an apartment complex where some of the scientists involved in the long-range rocket programme will soon reside," North Korean observer and author of NK Leadership blog Michael Madden told NK News.
His lengthy absence had also fuelled rumours of a military coup and Pyongyang lockdown which were widely rubbished.
In its latest dispatch, the country's official mouthpiece Korean Central News Agency (KCNA) quoted Kim as saying: "Our scientists are patriots who are devoting all their lives to building a rich and powerful nation, convinced that though there is no frontier in science, they have a socialist motherland and are under the care of the mother party. There is nothing to spare for them. It is necessary to project and treat scientists preferentially and always take care of them."