North Korean leader Kim Jong-un has ordered his country's scientists to conduct more nuclear tests in the wake of increasing tensions in the region. He also exhorted them to bolster the nuclear attack capability.
Kim is thought to have addressed a small group of North Korean scientists and others on the sidelines of the recent ballistic missile launch, which was carried out on 10 March. A statement published by the regime's mouthpiece Korean Central News Agency (KCNA) reads: "Dear comrade Kim Jong-un said work ... must be strengthened to improve nuclear attack capability and issued combat tasks to continue nuclear explosion tests to assess the power of newly developed nuclear warheads and tests to improve nuclear attack capability."
He added that North Korea must develop various methods to deliver nuclear warheads to "make nuclear strikes at the enemies from anywhere on the ground, in the air, at sea and underwater".
Only days ago, the Stalinist leader claimed North Korea has already miniaturised nuclear warheads so as to mount them on ballistic missiles. Independent experts and analysts have cast doubts on the claims.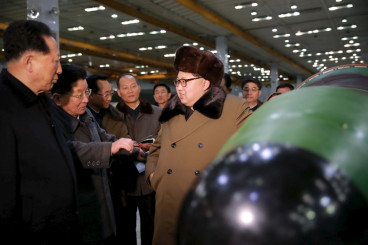 There has been constant turbulence in the Korean peninsula region ever since the hermit kingdom went ahead and conducted its fourth nuclear test in January defying international warnings. The North also followed it up with the launch of a long-range rocket in early February further raising tensions. Both acts are in clear violation of UN regulations.
Responding to the bellicose rhetoric from the neighbour, South Korea's unification ministry spokesperson Jeong Joon-hee said during a regular press briefing: "We are ready to immediately respond to any provocation that North Korea can make." The rival Koreas are still technically at war since the 1950-53 Korean War never ended in a peace agreement.