A Northern Ireland woman who had her workplace raided by police while they searched for abortion pills has criticised the government for the way she has been treated.
Belfast artist Helen Crickard was working in her shared studio last month when police burst into the building with a warrant to take her laptop, mobile phone and bank documents, according to the Belfast Telegraph.
Officers were allegedly responding to an intercepted package addressed to the studio that contained a combination of mifepristone and misoprostol; drugs that can induce abortion when taken together.
Police performed the raid as part of a recent large-scale crackdown on the practice of self-medicated abortions in Northern Ireland, the only part of the UK where abortions are illegal.
Today (18 April) she has been cleared without charge and took the opportunity to speak out about her treatment at the hands of the authorities.
"I am angry at the way the search of my office was carried out because I work in a shared space and it didn't leave me in a very good position with regards to the people I work with," she told the Belfast Telegraph.
"Obviously I am relieved that I am not facing any charges, but I do feel like there has been defamation of my character."
Women in Northern Ireland who want an abortion and can afford to travel to other parts of the UK are legally allowed to undergo procedures elsewhere – they may even be treated by the NHS. However, those who cannot afford to cross the Irish Sea must break the law if they do not want to keep their unborn child.
Crickard said: "To be honest, it isn't really the fault of the police, they are just doing their job and they should be allowed to do that."
"This is the fault of our politicians who have completely failed to protect women in Northern Ireland by denying them the right to the same health care women in the rest of the UK can access.
"These abortion pills are named by the World Health Organisation as safe medication. At the moment we have a situation in Northern Ireland where women cannot even get an abortion if they are carrying a baby with a fatal foetal abnormality."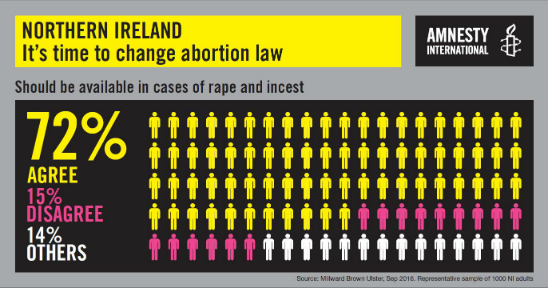 Northern Ireland Police said they did not comment on individual cases but added that they were working to formulate guidelines for their approach to the "sensitive topic" of DIY abortions.
"They are prescription only medicines (POM) which, if taken together, have the potential to induce an abortion. Possession or purchase is not an offence. Taking or supplying such medication with the intention of procuring or inducing an abortion may constitute an offence," they said in a statement.