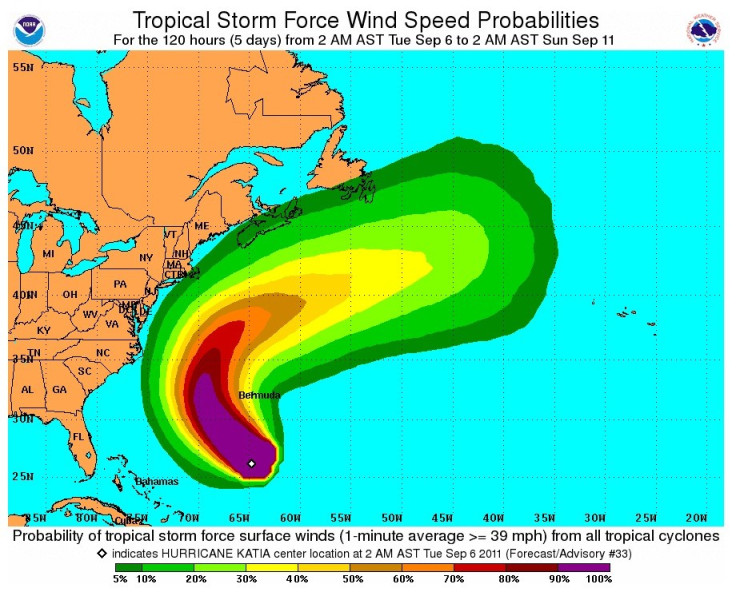 Central and southern Scotland, Northern Ireland and the north of England are expected to feel the force of Hurricane Katia as winds of around 80 mph are set to batter UK coastlines.
Northern Ireland and the Republic are said have battened down the hatches over fears that the force of the hurricane could cause extensive damage to both lives as well as put people's lives in direct danger.
Katia is expected to wreak havoc across the UK Monday with motorists across the country, with warnings of the risks of falling trees, damage to buildings as well as the real risk of extensive flooding.
Heavy rain of up to 75mm in Scotland and up to 20mm in the north of England is also predicted. The Met Office has issued an Amber Alert.
Irish forecasters Met Eireann issued an extreme weather warning amid predictions of storm gusts of up to 130 kmph battering the west and north west coast, with peak winds of 115 kmph sweeping across the rest of the country. The south of England is not expected to escape either, with gusts of up to 50 mph and persistent driving rain.
''The brunt of the wind will go through central and southern Scotland, Northern Ireland, northern England and North Wales. Gusts are from 60-70mph in some places, possibly higher, especially in exposed places in parts of western Scotland like the islands and hilly areas. It will be quite windy in the south (of England) too, with gusts of 40 to 50mph," said Billy Payne, forecaster for MeteoGroup, the weather division of the Press Association.
A Met Office spokesman said: "The remains of Hurricane Katia will move eastwards across northern Scotland during Monday, bringing a spell of very windy weather to the UK and also heavy rain to western Scotland.
"The strongest winds are expected to affect parts of Northern Ireland during the morning, before moving east across central and southern Scotland and into northeast England by evening."
The 0730 BST Stenaline sailing from Belfast was cancelled and the company has asked anyone planning to travel on Monday to check before going to the port. The Ferrycheck number is 08705 755 755, the BBC reports.
All P&O Fastcraft sailings from Northern Ireland have also been cancelled on Monday. Passengers will instead be able to travel n the convential Larne to Cairnryan ferry. The PSNI have also advised motorists to drive with extra care because of the difficult weather conditions.