Northern Ireland: Stormont faces collapse as parties reject DUP's adjournment ultimatum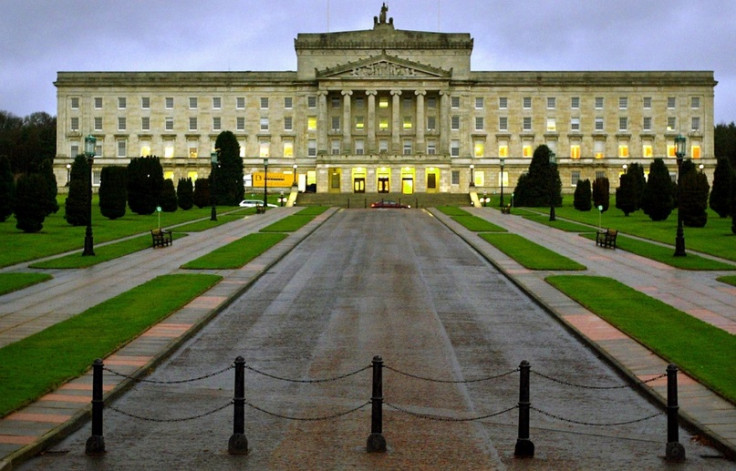 The peace process in Northern Ireland is under threat after the Democratic Unionist Party's bid to adjourn Stormont was voted down by rival parties. Peter Robinson party's threatened to quit the power-sharing assembly if the business committee did not pass the proposal, but the Ulster Unionist Party, Sinn Fein and Social Democratic and Labour Party opposed the move.
The latest development in the Stormont crisis comes after Police Northern Ireland (PSNI) claimed former IRA members could have been behind the murder of Kevin McGuigan Snr, a 53-year-old ex-member of the terror group who was shot dead in front of his wife on 12 August.
Sinn Fein has rejected the allegations that the IRA was behind the death of McGuigan Snr, but political tensions tightened further when police arrested Bobby Storey, a northern chairman of the republican party. PSNI has said Storey is among three republicans it is questioning about the east Belfast shooting.
"As a consequence of today's events we have sought a recall of the business committee to consider adjourning the assembly. If that does not happen or as an alternative, the secretary of state does not suspend the assembly, then DUP ministerial resignations will follow immediately," Robinson, the first minister of Norther Ireland, said in reaction to arrests on 9 September according to the Press Association.
But Gerry Adams, the president of Sinn Fein, said he had "grave concerns" about Storey's arrest. "I don't want to go any further than to say I have grave concerns about how all of this has developed, including the arrest of Bobby Storey. The PSNI have to be allowed to carry out their investigation, they have to be allowed to conclude their investigation," he told reporters.
The assembly now faces collapse in the wake of the adjournment vote since the DUP is the largest party in the power-sharing executive with 38 MLAs.
© Copyright IBTimes 2023. All rights reserved.