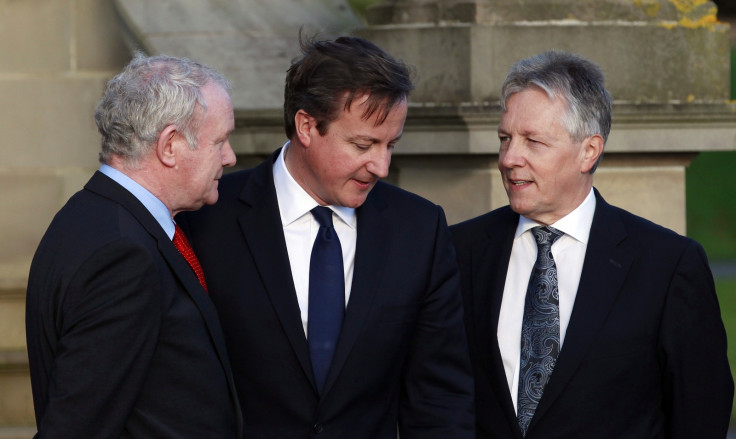 Northern Ireland's First Minister Peter Robinson has asked UK Prime Minister David Cameron to suspend the state's assembly in a bid to try and resolve the current political crisis.
Robinson led a Democratic Unionist Party (DUP) delegation to meet Cameron at Downing Street on Tuesday (1 September) afternoon.
The suspension request came after a motion by the DUP to adjourn the assembly was defeated. The crisis, the BBC said, was triggered by the murder of IRA member Kevin McGuigan Sr and the Ulster Unionist Party's (UUP) decision to quit Northern Ireland's power-sharing deal.
The Northern Ireland assembly is due to return next Monday after the summer recess. However, following an assessment by the Police Service of Northern Ireland of an IRA role in the murder of McGuigan, Robinson said that "it cannot be business as usual."
The DUP's proposal to adjourn the assembly was brought before the Stormont's business committee on Tuesday (1 September) but it was overruled by the other parties.
Speaking to reporters after the meeting with Cameron, the DUP leader said: "The government could suspend and we've asked the prime minister to consider that, if indeed the parties don't recognise an adjournment would be a better option."
In a written statement, the Prime Minister's Office said: "The prime minister recognised the gravity of the current situation and the need to rebuild trust and confidence in the political process in Northern Ireland."
Cameron has asked the Secretary of State for Northern Ireland Theresa Villiers to hold further talks to agree on a way forward, the statement added.
Villiers has suggested that it may be "worth considering" bringing back a body similar to the International Monitoring Commission to monitor paramiltary activity, adding that it was important to bring paramilitarism to an end.
Irish Foreign Affairs Minister Charlie Flanagan said "no best interest was served" in allowing Northern Ireland's political institutions to collapse.
He said "a number of options" were on the table over how to rebuild trust among the parties, and added that there was a need for them to recommit to "the spirit and the letter of the Good Friday Agreement."
Police believe that Provisional IRA members were involved in the murder of McGuigan, who was shot dead in east Belfast last month.
Following the murder, Northern Ireland's police service said that the IRA still exists, although the Chief Constable George Hamilton said that there was no evidence that McGuigan's murder had been sanctioned at a senior level in the organisation.