Mass murderer Anders Behring Breivik's claims of "inhumane" and "degrading" prison conditions have been roundly rejected by Norway. Breivik – who killed 77 people in a rampage in 2011 – is suing his country on the grounds that his treatment violates his human rights.
The far-right extremist is currently serving a 21-year prison term – the maximum in Norway – in a high-security facility. He argues that his effective solitary confinement amounts to cruel and inhumane treatment and contravenes the European Convention on Human Rights (ECHR).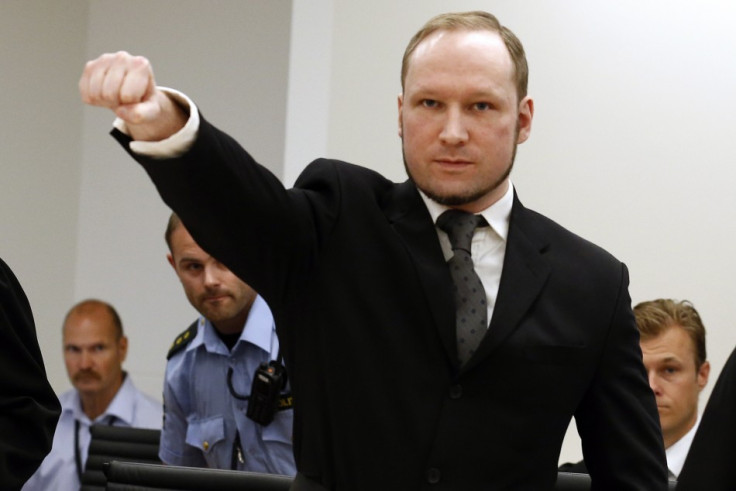 The terrorist's hearing is scheduled for 15 to 18 March at the Skein prison, where he is being held. Breivik's claims were flatly rejected by the attorney general's office, who defended the prison conditions. "There is no evidence that the plaintiff has physical or mental problems as a result of prison conditions," a document submitted to the Oslo district court by the attorney general's office read.
It added that Breivik has access to three different cells which contain living quarters, a study area and space for physical exercise. He also has a television, a PlayStation games console, computer without internet access and has facilities to prepare his own food and do his own laundry.
Although he is not permitted to have contact with other prisoners due to security reasons, he is able to communicate with guards and professional staff. "There are limits to his contact with the outside world which are of course strict – it pretty much has to be that way – but he is not totally excluded from all contact with other people," defence lawyer Marius Emberland told AFP.
Breivik's contact with the outside world "must be seen in light of his political extremism and his desire to establish cells that may contribute to the development of extremist networks," Emberland added.
Despite being imprisoned for multiple murders, Breivik's lawyer claims that he is suffering from "clear isolation damage" which stems from being cut off from visitors. He claimed that during the first two years of his imprisonment, "the only visit from a non-professional was that of the plaintiff's mother" before she died. He added: "They had around five minutes together during which they hugged."