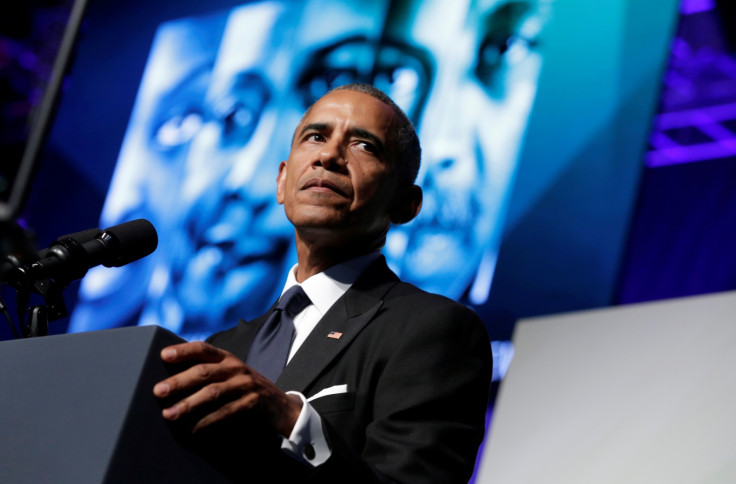 Barack Obama urged has African-American voters to vote for Hillary Clinton with the president telling the Congressional Black Caucus Foundation that he would take it as a personal insult if they didn't.
"There's no such thing as a vote that doesn't matter. It all matters," Obama told those at the Phoenix Awards dinner. "I will consider it a personal insult, an insult to my legacy, if this community lets down its guard and fails to activate itself in this election."
According to NBC News, Obama discussed his administration's success within healthcare, criminal justice reform and the economy, noting that the US is "stronger and more prosperous than it was eight eight years ago".
The president added: "None of it's been quick, none of it's been easy. None of it has come without a fight. And so much of our work remains unfinished."
Without mentioning Donald Trump by name, Obama condemned the Republican nominee's strategy to attract African-American voters.
"He says we got nothing left to lose, so we might as well support somebody who has fought against Civil Rights, and fought against equality, and who has shown no regard for working people for most of his life," Obama said. "Well, we do have challenges, but we're not stupid."
Obama added: "We know the progress we've made, despite the forces of opposition, despite the forces of discrimination, despite the politics of backlash. And we intend to keep fighting against those forces."
The president also discussed how Republican lawmakers have added hurdles to the voting process by cutting early voting, passing voter ID laws and closing polling places in minority communities. He noted that apart from the restrictions, African-Americans have among the lowest voting rates.
"That's not good. That is on us," Obama said, according to the Associated Press. Obama then urged the lawmakers to help get people registered to vote.
The Associated Press reported that Clinton was also honoured with the Trailblazer award for becoming the first female presidential nominee of a major party. In her own speech, Clinton urged the crowd to help protect Obama's legacy and warned of the "dangerous and divisive vision" coming from Trump.
"We need ideas not insults, real plans to help struggling Americans in communities that have been left our and left behind, not prejudice and paranoia," Clinton said. "We can't let Barack Obama's legacy fall into the hands of someone who doesn't understand that, whose dangerous and divisive vision for our country will drag us backwards."