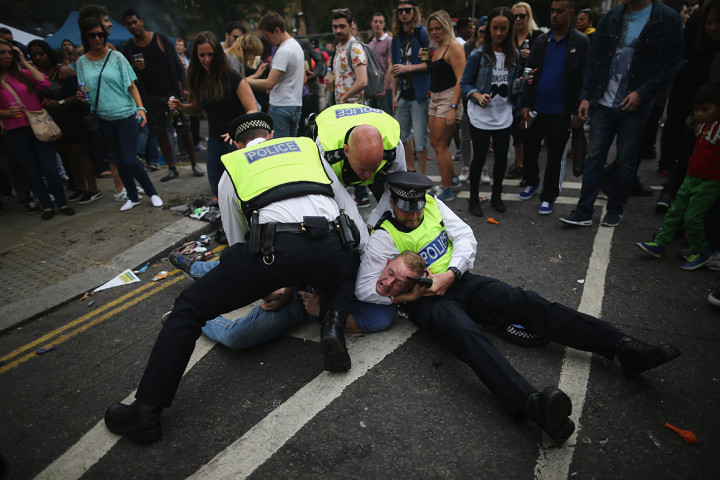 Two police officers were injured and a further three men stabbed on the final day of the Notting Hill Carnival in west London.
Metropolitan Police said there were a total of 261 arrests during the two-day event, including six arrests on suspicion of attempted murder after a man received serious stab wounds.
A further two men were also stabbed in separate incidents on Bank Holiday Monday's finale, while eight other individuals also sustained minor knife wounds. Nine people were arrested in connection with these incidents, but police have not yet released further details about the arrests.
A 33-year-old male police officer also received injuries to the head and torso while attempting to arrest an individual on suspicion of drug-dealing.
A female officer who came to his assistance was also injured after coming under attack. Both were taken to hospital for their injuries but were later discharged. A man has been arrested for affray and remains in custody.
Elsewhere, there were more than 60 arrests for suspected drug offences; 20 people were arrested on weapon-related charges and 19 were held on suspicion of ABH or common assault.
Following the spate of violent incidents, Scotland Yard imposed emergency stop and search powers across the Notting Hill area which gave officers the right to search people in a specific area, either where a serious public order problem is likely to arise or has taken place, or for offensive weapons or dangerous instruments.
The Section 60 and Section 60AA orders also gave officers the right to remove disguises such as hoods or balaclavas from suspects.
Met Police said the decision to impose the orders arrived "in response to incidents of violence, and intelligence received, which have taken place within a short period of time in the last few hours".
The total number of arrests was down on previous years, with last year seeing 301 suspects detained, and a total of 278 arrests in 2012.
Around 7,000 officers policed this year's carnival with one million people estimated to have joined in the celebrations at Europe's biggest street festival.