More than 120 people have been arrested by police in a swathe of raids targeting potential troublemakers at this year's Notting Hill Carnival.
Officers from Scotland Yard struck first by blitzing potential suspects with 170 search warrants in the early hours of this morning and through the day (Tuesday).
A haul of drugs and guns was seized, including a sten machine gun, a mach 10 machine gun and a pistol. Also discovered were a stash of ingredients for making the illegal drug crystal meth and £78,000 in cash.
Police arrested 126 people in total in a bid to cut crime at this year's Carnival in west London, the biggest street festival in Europe which is in its 50th year.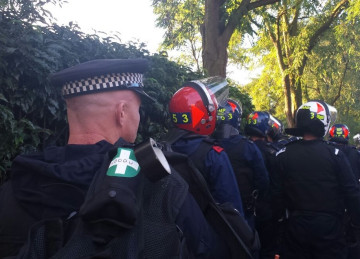 Also deployed this year in the fight against crime is a team of highly-trained officers called 'super recognisers.' These are policemen and women with ultra-powerful memories, who can recall the faces and details of offenders.
Chief Superintendent Robyn Williams, the Met's Notting Hill Carnival spokesman, said the raids were an important part of upholding public safety at carnival.
He said: "Today's operation was aimed at ensuring that those who set out with the intention of causing trouble at Carnival will not succeed.
"We are committed to ensuring that Notting Hill Carnival remains a safe, vibrant and enjoyable event."
"If you know anyone who is planning to use Notting Hill Carnival to commit crime, please call Crimestoppers anonymously to help us keep the event a safe celebration."
The Notting Hill Carnival takes place over the three days of the August bank holiday, this weekend.