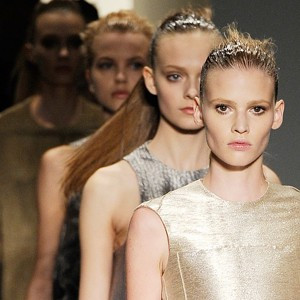 At a time when models are the crucial subject in the run up to New York Fashion Week, Diane Von Furstenberg is urging designers to confirm their models' ages before allowing them to walk in their shows.
Designers showcasing at New York Fashion Week are being advised to I.D. models through their cards in an effort to comply with the CFDA's recommended age limit, which says girls under 16 shouldn't walk in major shows, reports Styleite.
New York's Mercedes Benz Fashion Weekis vast approaching, and with everyone eager to find the next new, young model face DVF is ensuring legality is met.
Furstenberg was involved in legal matters after unknowingly allowing a 15-year-old, Hailey Clauson, to walk her runway.
The legal working age in the United States is 16, and Furstenberg issued a public apology for the mistake.
Now Furstenberg and CFDA chief executive officer Steven Kolb are working together to encourage fellow designers to be more careful when booking models.
WWD quoted a letter issued by Furstenberg and Kolb stating:
"The casting agents for the Diane Von Furstenberg show will be doing this and we encourage others to do the same." It is clear that the fashion and, more specifically, the modelling world, cannot afford any more damaging scandals."
Already Kolb and von Furstenberg have received pledges from some of New York's top modelling agencies that they won't send models under 16 on go sees for Fashion Week presentations, reports Styleite.
The letter by Diane Von Furstenberg and Steven Kolb can be read in full on the CFDA website here: CDFA