Presidents Barack Obama and Raul Castro sparred over a range of issues during a historic press conference in Havana as the US and Cuba aimed to usher in a new era of ties. The American leader, the first sitting US president to visit Cuba since the 1959 revolution, declared a "new day" in Cuba-US relations but differences over human rights and the return of Guantanamo Bay underscored hurdles to renewed ties between the Cold War rivals.
"For more than half a century, the sight of a US president in Havana would have been unimaginable, but this is a new day," said Obama kicking off the joint news conference. Obama took questions from the media with aplomb while Castro – unaccustomed to addressing press conferences – was confused.
On one occasion he was not sure whether a reporter's query was directed at him or at Obama. When a second question was posed on human rights allegations, Castro politely concluded, "Enough," forcing the US president to interject with an "Excuse me," and a wink at journalists.
Obama said: "We have decades of profound differences. I told President Castro that we are moving forward and not looking backwards."
"We will continue to stand up for basic principles that we believe in. America believes in democracy. We believe that freedom of speech, (and) freedom of assembly, are not just American values but universal values."
Most of the questions posed by American journalists were labelled misguided or Castro sidestepped them. At one point, when grilled about the crackdown on dissidents, an animated Castro shot back: "Give me a list of the political prisoners and I will release them immediately." He went on: "Just mention the list. What political prisoners?"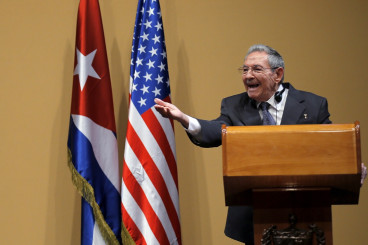 The Cuban leader also attempted to turn the tables on the US citing its perceived failure in healthcare. He pointedly said: "There are profound differences between our countries that will not go away. In our view, civil, economic, social and cultural rights are indivisible, interdependent and universal.
He continued: "We find it inconceivable that a government does not defend and secure the right to healthcare, equal pay and the rights of children. We oppose political double standards in the approach to human rights."
As the presser concluded, Castro raised Obama's arm in a symbolic gesture. Ahead of the joint address to reporters, the two heads of state held private talks for nearly two hours. Castro called for an end to the US trade embargo on Cuba and demanded the return of Guantanamo Bay to his country. Obama agreed to end the American trade embargo on Cuba.
"Cuba's destiny will not be decided by the United States or any other nation ... The future of Cuba will be decided by Cubans not by anybody else," Obama said, as he offered to fully lift the trade embargo. However, it was not clear when exactly that would happen.