A shocking documentary to be broadcast on ITV is to uncover the brutality of life in Saudi Arabia, showing people hanged from cranes and a woman being beheaded in the street. Called Saudi Arabia Uncovered, the film raises yet more questions over the UK government's continued "special relationship" with the Saudi monarchy, laying bare the regime's atrocious human rights record.
In one scene five alleged robbers are strung up between two cranes, with young children rushing to view the lifeless bodies. Another clip shows a woman accused of murdering her stepdaughter being beheaded in the street with a sword as she screamed "I didn't do it".
The documentary also introduces viewers to a large public area in the Saudi capital Riyadh nicknamed Chop Chop Square, on account of its use for executions. So extensive is the number beheaded, a drainage system used to wash away the blood is shown permanently stained red.
Broadcast on Tuesday (March 22), those behind the documentary say their film "goes undercover to reveal the hidden reality inside one of the world's most secretive and strict Islamic regimes". They were given rare access to an underground network of young activists trying to voice their opposition to the Saudi monarchy's rule over six months.
The filmmakers say it shows an oil-rich Kingdom in "chaos", with unrest in prisons, poverty on the streets, and religious police enforcing barbaric fundamentalism.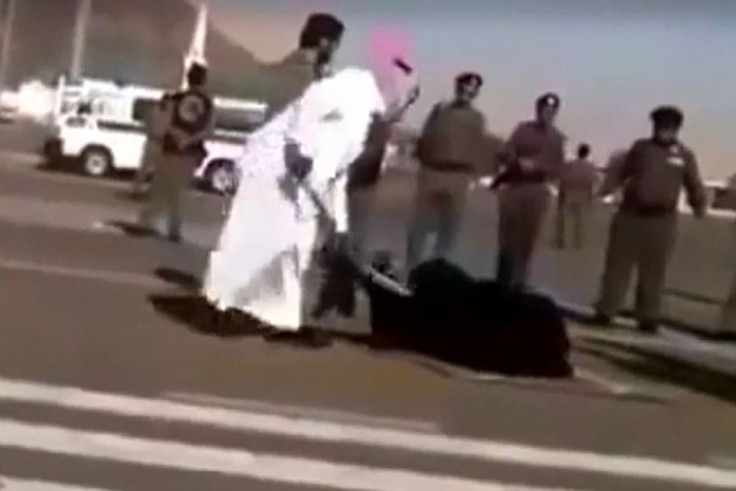 As well as showing some of the grim reality of life under the rule of the notoriously secretive Saudi monarchy, it interviews senior British and US officials questioning whether it is time for the UK to reassess its relationship with Saudi Arabia.
The UK government has been under increasing pressure to be stronger in its public condemnation of Saudi Arabia's human rights abuses. This includes its notoriously poor record in relation to women's rights and its extensive use of the death penalty, which has risen rapidly in recent years and has seen even young activists placed on death row.
The UK has also faced calls for it to suspend its lucrative arms sales to the Saudi regime after it was accused of targeting civilians with "indiscriminate" air strikes in Yemen.
Prime Minister David Cameron and foreign office officials have regularly defended their government's support for the Saudi regime, saying it is an important partner in the Middle East which provides valuable intelligence on terror attacks.
Saudi Arabia Uncovered, produced by Hardcash Productions, airs on ITV on 22 March at 10.40pm.