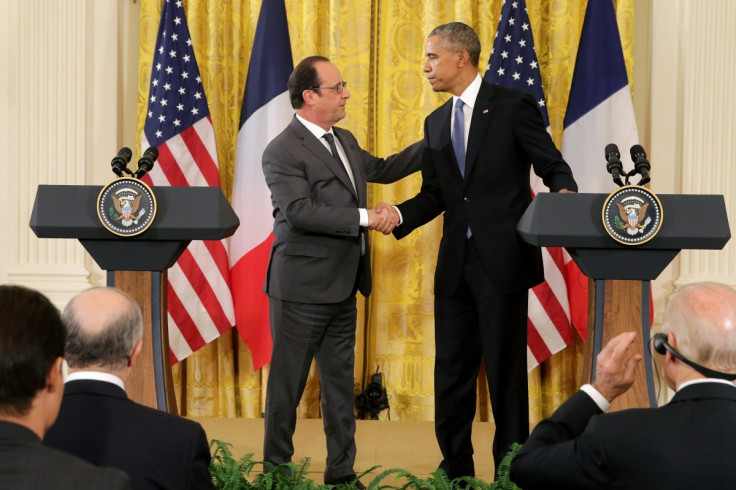 US President Barack Obama vowed the US would stand with France to destroy the Islamic State (Isis) following the deadly terrorist attacks in Paris on 13 November. Speaking to reporters at the White House along with French President François Hollande, Obama said: "We've never forgotten how the French people stood with us after 9/11, and today we stand by you."
"This barbaric terrorist group, Isil or Daesh, and its murderous ideology, poses a serious threat to all of us. It cannot be tolerated, it must be destroyed, and we must do it together. This is the unity of purpose that brings us here today," Obama said.
According to TIME, the meeting between the two western leaders comes as France continues to push for more strikes against IS in Syria. Hollande met with British Prime Minister David Cameron on 23 November and is expected to meet with the leaders of Italy, Germany and Russia later in the week.
Despite the White House's support for Hollande, the administration has kept the request for more support for military intervention in Syria at bay. Obama instead urged the European Union to allow airline companies to share information on passengers and got Hollande to agree to share intelligence on terrorist threats and to focus on hurting IS finances and its leadership.
"It is France that came under attack on the 13th of November," Hollande said. "But by targeting France, the terrorists were targeting the world." When the two leaders were asked about the Turkish downing of a Russian fighter jet, Obama said that he wanted to make sure the situation did not escalate and said Russia should work more closely on counterterrorism efforts, TIME reported.
"It requires us working with [Russia] to make the kind of strategic shift that's necessary, and that frankly I've talked to Putin about for five years now," Obama said. Hollande added: "What took place means that we must find a solution to the Syrian crisis. We know what the stakes are when we don't do that." According to Politico, neither president would offer a timeline on how long they would allow Syrian President Bashar al Assad to remain in power as part of a transitional process.
More threats from Isis
Hollande's visit to Washington comes as a homegrown French IS fighter issued a new threat of attacks on France. In a video warning posted on Twitter on 24 November, the balaclava-clad fighter says: "We will be coming, we will come to crush your country". According to the Daily Mail, the man continues: "Hey you, François [Hollande], you declared a war that you cannot win, you will not be able to win, you promise victory for your people that is the people of the West. [But] the victory has been promised to us by our creator, by our Lord."
The warning comes 24 hours after IS released a video called "Paris has Collapsed" showing the Eiffel Tower crumbling. The Daily Mail noted that the footage was taken from a 2009 action movie.