Barack Obama has used his visit to Vietnam to speak out about the importance of free speech in the country. So when he had the chance to allow someone to express themselves freely, he grabbed hold of the opportunity.
On his last day in the country (25 May), Obama interacted with locals and answered questions during a town hall-styled meeting in Ho Chi Minh City. When 26-year-old rapper Suboi, known locally as the Queen of Hip Hop, asked the POTUS about the role of arts in international relations, he decided to lighten the moment with a round of verse.
"Before I answer your question, why don't you give me a little rap, let's see what you got," Obama challenged her. "Come on. Do you need like a little beat," he asked before showing off his own beat boxing skills.
"In Vietnamese, of course," the president clarified when Suboi asked which language he would prefer she rapped in. "I won't know what it means, but... just a short version, because I've got to get going. Go ahead."
The female rapper then performed a few short verses and explained that one was about materialism and the other about how female rappers are not taken seriously.
"Well that's true in the United States too... there's always been, sort of, sexism and gender stereotypes in the music industry, like every other part of life," Obama responded. After explaining the origins of rap he used the subject to once again stress the importance of free speech.
"Imagine if at the time that rap was starting off that the government had said 'no because some of the things you say are offensive or some of the lyrics are rude or you're cursing too much'.
"That connection that we've seen now in hip-hop culture around the world wouldn't exist. So you've got to let people express themselves. That's part of what a modern 21st-century culture is all about," he said.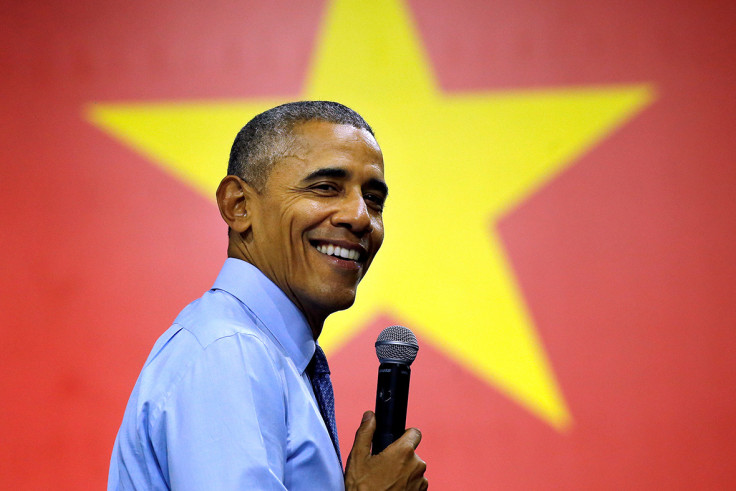 Arts and international relations
Obama also did answer Suboi's original question, saying: "Music, poetry, representations of life as it is and how it should be — those are the things that inspire people. And if I listen to a Vietnamese rap and it connects to the things I'm feeling, now I feel closer to a country on the other side of the world."
He went on to point out that since art was such a powerful weapon it was often repressed.
"Let's be honest. Sometimes art is dangerous, though. And that's why governments sometimes get nervous about art," he said. "But one of the things I truly believe is if you try to suppress the arts, then I think you are suppressing the deepest dreams and aspirations of the people."
After leaving Vietnam, the president moves on to the next leg of his Asia tour. He will spend the next few days in Japan, where he will attend the G7 summit and visit the Hiroshima blast site.