Concluding his three-day visit to Vietnam, US President Barack Obama's last stop in the country involved meeting 800 young adults in a town hall-style event in Ho Chi Minh City. He praised the current generation of youth for having more awareness about the environment and urged them to help in tackling issues related to climate change.
He warned that Vietnam will be one of the countries that will be the most affected given the trend of warming temperatures and rising seas, according to AP
"That could have a huge impact on Vietnam's ability to feed its people, on fishermen, on farmer, and it could be a really big problem if we don't do something about it, so it's going to be up to you to start," the US president said.
"One of the great things about your generation is that you're already much more conscious about the environment than my generation was or previous generations were," he added.
Similar public events by the US president often incorporate a question and answer session with young leaders. At Ho Chi Min, Obama met with participants under the age of 35 for a variety of educational and cultural exchanges. He was praised by the leaders for his "inspiring speeches".
During an interaction, he said that he "fooled around a lot" and was never serious about school in his childhood days. "I was more into basketball and girls. I wasn't always that serious. You're already way ahead of me. That's good."
Obama kept the mood of the event light and avoided going deep into political issues, especially when he was questioned about his future plans and where he would see the world in five years. However, as for his future, he plans to stay involved in political affairs and return to his roots as an organiser, "except a little more famous than I used to be".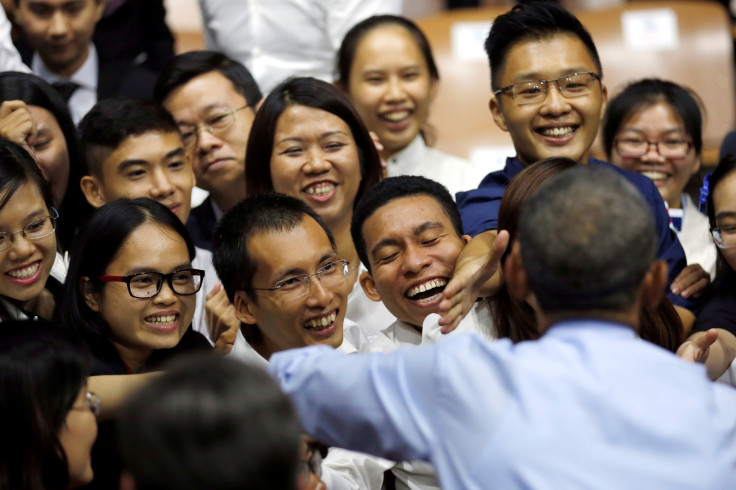 Earlier, Obama deepened relations with Hanoi, by lifting the decades old embargo on arms sale, and announced the operation of Peace Corps for the first time in the country. Pressing Vietnam to be more relaxed on the freedom available for its citizens, he said that the country's economy would improve if they respected human rights.
"You've got to let people express themselves. That's part of what a modern 21<sup>st century culture is all about," Obama explained.
Obama will next tour Japan, which will mark yet another historic event as he will be the first sitting president to visit Hiroshima. Along with six other counterparts, including British Prime Minister David Cameron, Obama will attend the G-7 summit to be hosted by Japanese Prime Minister Shinzo Abe on 27 May.