An obsessive gambler who murdered, then dismembered, his rich friend before dumping his body in a suitcase and blowing £180,000 ($232,000) of the victims' money at a casino, has been jailed for life.
Debt-ridden Chinese gambling addict Ming Jiang killed his wealthy compatriot Yang Liu after they became friends gambling on the same tables at Manchester235 casino.
Jiang, who had denied murder, was told he must serve a minimum of 33 years in prison at Manchester's Minshull Street Crown Court on Tuesday (2 May), following his conviction last week.
The court heard how Jiang had tempted his friend to his home, in Beswick, after he wracked up losses totalling £273,115.
A jury heard how Liu, a divorcee and father-of-two, visited the address after 4 October where he was bludgeoned to death by the 43-year-old who was being pursued by creditors.
Liu, a wealthy graduate who dabbled on the stock market, was then dismembered by Jiang who cut off his victim's head and limbs, leaving his home covered in blood, and hid the torso in a black Samsonite suitcase.
Jiang then drove to a remote lay-by on the Pennine Moors, near Tintwistle in Derbyshire, between Manchester and Sheffield, where he torched the remains in an attempt to hide his victim's identity and evade capture.
After dumping the body on 9 October Jiang spent the next four days trying to clean up his blood-soaked one bedroom flat while visiting Liu's apartment at MediaCity in Salford.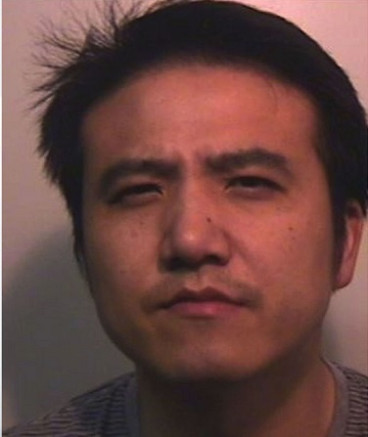 Jiang, who once worked as cabin crew for Lufthansa in Germany and been convicted of credit card fraud, assumed Liu's identity, even taking some of his clothes and emptying his accounts.
The court heard how Jiang spent £178,000 on chips at Manchester235 in the weeks after the murder and attempted to sell the Salford Quays apartment belonging to his friend for £150,000.
Presiding over the case, Judge John Potter told him during sentencing: "Your actions ended the life of a gentle and kind young man.
"They demonstrate that you are a highly dangerous, cunning and ruthless killer prepared to stop at nothing to fulfil your own selfish desire to feed your gambling habit
"Your high spending, high rolling behaviour was in fact a selfish and self-centred veneer behind which you hid a life of increasing dependency on debt which was rapidly spinning out of control."