An obstetric fistula is one of the most serious and tragic injuries that can occur during childbirth, often leaving women incontinent, shunned by society and further entrenching them in poverty.
A fistula is a hole between the birth canal and the bladder or rectum, caused by prolonged, obstructed labour without treatment. An estimated two million women live with untreated fistula in sub-Saharan Africa and Asia.
Left untreated, fistula can lead to physical, social, emotional and economic decline. The smell of leaking urine or faeces is difficult to eliminate and can lead to further health complications such as rashes, infection, ulcerations and kidney problems.
Obstetric fistula occurs most frequently among impoverished women and girls.
Dorca Nyaliech, a 73-year old woman from Kenya, lived with obstetric fistula for more than 50 years. Her struggle began when she was 16, when newly-married, she fell pregnant and had her first delivery at home.
After suffering severe labour pains, Dorca was rushed to Asumbi Mission Hospital where she had a stillbirth. She was diagnosed with fistula, the cause being a prolonged and obstructed labour. Sadly, the hospital staff could not repair the condition and did not know where she could get help.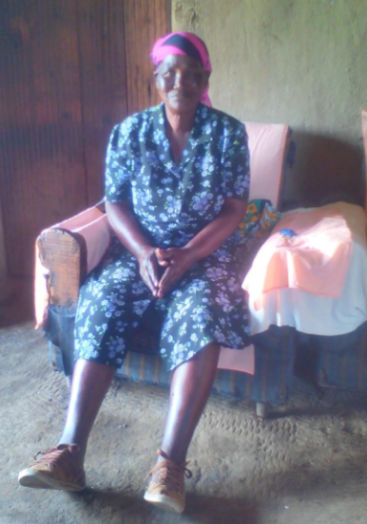 Nyaliech ended up having to use tattered clothes to prevent urine leaking, and was forced to stay at home in isolation because of stigma.
She vividly remembers one occasion when members of the public refused to use the same public bus as her due to her smell. One woman referred to her as "rotten meat".
Dorca eventually had children but her struggle with fistula continued. When her husband died and her daughter was married, she was left alone at home.
Stigma is not uncommon - women who develop a fistula and who can't afford corrective surgery can be shut out by family and friends, leading to social isolation and a sense of shame and humiliation. Some resort to suicide.
Fistula is preventable. It can largely be avoided by delaying the age of first pregnancy and by providing better, timely access to obstetric care.
Surgery can also normally repair the injury, with the cost of fistula treatment, post-operative care and rehabilitation support at around $400 (£258). However, many women do not realise this treatment is available – or cannot afford it.
Improving girls' nutrition also helps minimise the risk of complications during childbirth, as well as improved access to education and family planning services.
In 2015, Nyaliech heard that Action on Fistula were providing a free service to treat women living with the condition, she jumped at the chance.
"I didn't hesitate to write down and call the free helpline," she said. Nyaliech helped to reach Kisumu Hospital, where she underwent two surgeries to treat her fistula.
She says the treatment ended her six decades of leaking – and restored her dignity.
"I can go about my daily chores like other women in the community. I thank God who enabled Action on Fistula to walk me through the process," says Nyaliech.
Action on Fistula is set to treat up to 4,500 women with obstetric fistula in Kenya by 2020. Action on Fistula is supported by a grant from Astellas, and was set up by the Fistula Foundation.