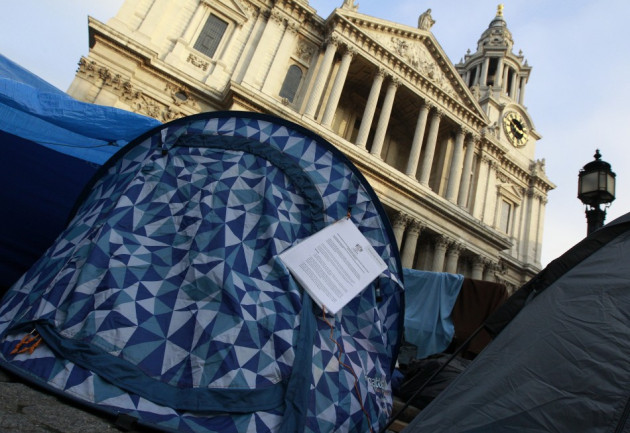 The lawyer representing the Occupy London protest is ready for a High Court showdown on Wednesday should the City of London refuse to enter negotiations.
The Corporation yesterday pinned legal notices to tents demanding that people "remove all tents and structures from the protest camp at St Paul's Churchyard".
John Cooper, QC, speaking to the IBTimes, said: "When the 6 p.m. deadline ticks past, the City of London will have to consider what to do next. Either they can enter another round of talks with the protesters or they can take my client to court".
Cooper added: "Due to timetabling we would expect a court date next Wednesday".
This is the second time the City of London has threatened legal action after its first attempt was thwarted by St Paul's decision not to join the Corporation in evicting the protesters through the courts. The City said it would "revaluate its options."
A new legal angle
Tuesday, however, on the same day New York police evicted the protesters camped in Zuccotti Park, the Corporation officially handed out the legal notices, in what Cooper speculates as a joint "NY-LON" initiative. "I know they often speak to each other," said the QC.
City of London spokesman Greg Williams, who said the protesters were in breach of the Highways Act of 1980, said: "We were keen to open dialogue with the protest camp to remove their tents but this has not been possible."
Cooper said: "At the beginning of the protest, they were criticised by the cathedral and the City for being in breach of health and safety regulations. Since then, the cathedral has reopened and now the City is taking sole legal action on a completely different issue."
Land ownership
But Cooper is confident that his clients have a strong case.
"What is not clear is actually who owns the land," said Cooper. "There are three owners in the camp area: the City of London, St Paul's and common land. Historically people were allowed to graze their sheep on common land. We need to have a look at 400-year-old laws."
He added: "I do hope, however, there will be further negotiations even after the 6 p.m. deadline has passed."