Occupy London Faces St Paul's Eviction after Appeal Rejected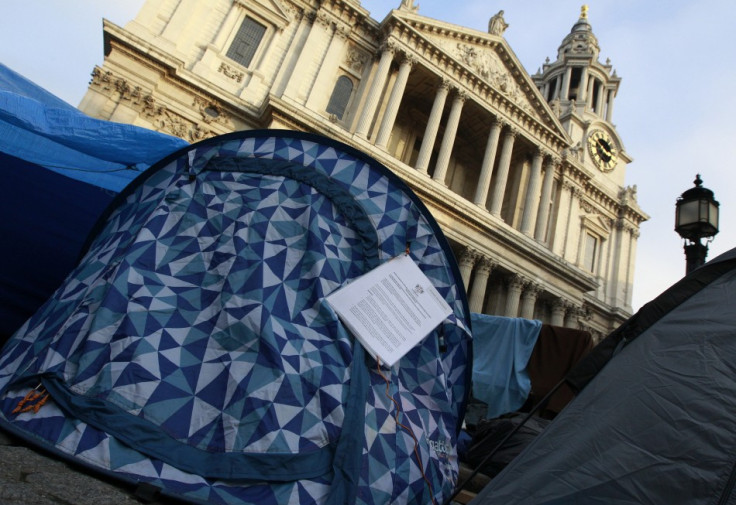 Occupy London activists who have lived in a tent village outside St Paul's Cathedral since October must pack up their camp and leave the area, an appeal judge has ruled.
Lord Justice McFarlane at the court of appeal dismissed the protesters' right to appeal against a high court eviction order handed down on 18 January, after a case was brought by the City of London Corporation which wants the activists off the land.
McFarlane's judgment said there was "no chance" of the protesters' arguments pursuading an appeal court to overturn the original ruling.
He said that while the protesters' rights under the European Convention on Human Rights were "undoubtedly engaged", they did not prevail over highway regulations and planning law.
Occupy's Tammy Samede said the court hearings "firmly established Occupy as the leading force in public debate".
"Of course there is disappointment that in accordance with strict interpretation of domestic law, we may not have prevailed today, according to some opinion," she said outside the court.
"But we do not regret one single moment afforded to us to make our case and challenge the approach of the corporation and the church.
"We will now urgently be considering the next legal steps with our legal team, and we anticipate that we will be bringing our case to the European Court of Human Rights to give the court the opportunity to consider the state of public protest law in Britain."
Ahead of the ruling the activists said they were "prepared for the worst, but hoping for the best".
"We welcome the court of appeal ruling. Everyone has had their day in court and the courts have backed our application to remove tents and equipment from St Paul's," Stuart Fraser, policy chairman at the City of London Corporation, said.
"Peaceful protest is a democratic right, but the camp is clearly in breach of highway and planning law.
"I would call on protesters to comply with the decision of the courts and remove their tents and equipment voluntarily right away."
© Copyright IBTimes 2023. All rights reserved.