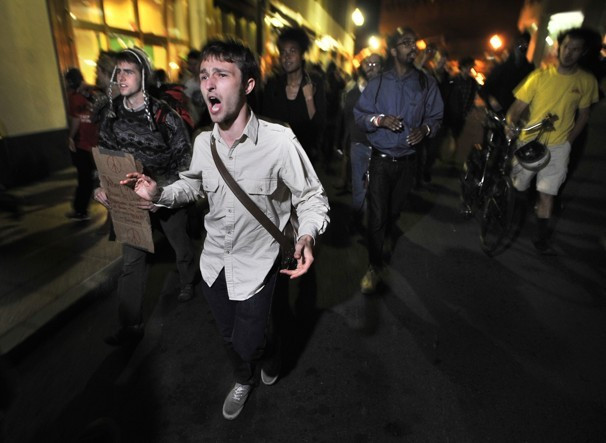 Following the arrest of as many as 100 participants in the Occupy Boston protest, the Anonymous collective has issued a slew of statements and images accusing the police of attacking and arresting a number of war veterans participating in the campaign.
Anonymous' accusations were first made via a series of tweets on its AnonOps Twitter feed. "Boston Police were also arresting the Veterans for Peace group. Police violence against them has been reported http://goo.gl/aj94g," read Anonymous' first tweet. "#OccupyBoston Police beat war veterans, 100 arrested. PHOTO GALLERY >> ."
Anonymous' claims came alongside a series of photos released on the AnonOps web site showing the initial Boston arrests. The arrests reportedly began at around 1:30 a.m ET after protesters ignored warnings by the police to return to their official campsite.
The tensions began when participants in the Occupy Boston protest moved from their official Dewey Square campsite to the Rose Kennedy Greenway. Police had reportedly previously sent leaflets to the protesters confirming they couldn't use the Greenway.
The arrests add to a growing number of reports regarding U.S. police forces' use of violent techniques against seemingly peaceful participants in the Occupy series of protests.
The latest arrests all occurred during an offshoot protest stemming from the original Occupy Wall Street movement.
The movement was originally started by Adbusters earlier in 2011. Though it has no concrete end goal, the common theme of the movement is to protest Wall Street and corporations' current influence on American policy.
Since news of the arrests broke, Anonymous has promised to enact a revenge attack on the New York Stock Exchange. At the time this article was written Anonymous had not made good on its threat.