Concept images of the Oculus Rift virtual reality (VR) headset's consumer model have been uncovered by snoopers digging around the Oculus VR website following the company's announcement of an E3 press conference to be held tomorrow (11 June, 6PM BST).
Leaping immediately to clarify what the images are, Oculus co-founder Palmer Luckey said on Reddit: "This is an old placeholder concept image that we accidentally leaked. Everything in it is ancient, certainly nowhere close to final. Enjoy checking it out, at this point, but don't expect everything to carry through to the stream on the 11th."
The last part suggests we'll see the final consumer model – or something close to it – at their press event. The leaked images show a VR headset, an external camera and remote control – all of which would ship with the final product when it releases next year.
Below are more of the leaked images.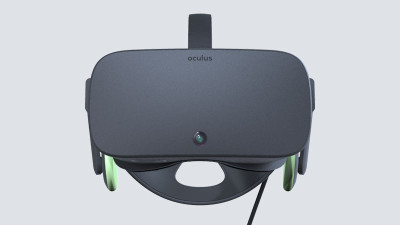 As pointed out by The Verge however, the images do match up with some of the teaser images on the Oculus site pretty well, indicating that the final product isn't far removed from what we can see here.
Each Rift will come with "the Rift headset, the Rift tracker [an external camera], the Simple Input Device [the remote control], a gamepad, and cables" according to the leak. The gamepad cannot be seen in the leaked images.
VR is set to be huge at E3 2015, with Sony expected to dedicate a lot of time to their Project Morpheus headset and Microsoft potentially showing up with Hololens (an augmented reality rather than VR headset) as well. Throw in the Valve-supported HTC Vive and there's a lot of potential for virtual reality to reign supreme in Los Angeles.
In May, Oculus CEO Brendan Iribe said that the entry price of the Oculus Rift – including a whole computer capable of using it with – will be around $1,500. Oculus want the headset alone to stay between the $200-400 price range.