Off The Hook: Why Jeremy Clarkson Won't Be Fired Over Racism Row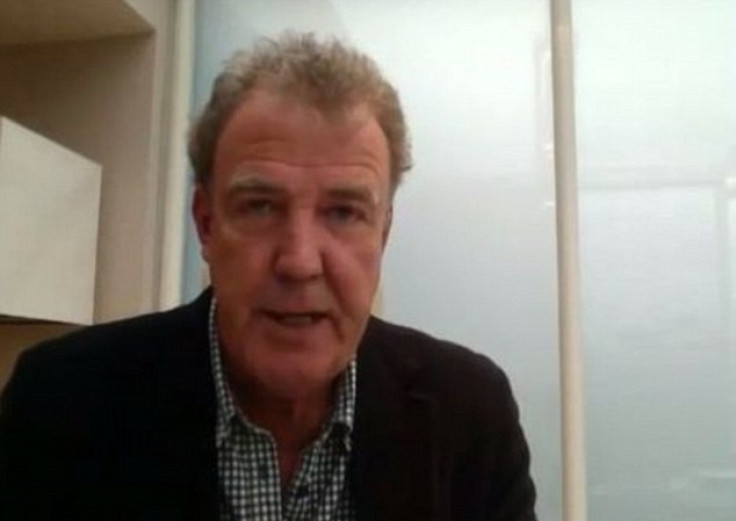 Clarkson may as well set up an automated reply for all his offences, as by the looks of things, the recent scandal won't be his last. After the Daily Mirror released footage in which the Top Gear presenter appeared to utter the N-word during the filming of the BBC programme, he has expressed his regret, explaining his efforts to disguise the offence "weren't quite good enough". No, Clarkson, no they were not.
In a video statement posted online, he claimed he had tried to obscure the slur while reciting the nursery rhyme "eeny, meeny, miny, moe" to choose between two cars. His backhanded apology read: "Please be assured I did everything in my power to not use that word, as I'm setting here begging your forgiveness for the fact my obviously efforts weren't good enough. Thank you." Thank you, Clarkson, for politely letting us know that you really couldn't give a damn.
Meanwhile, the BBC have issue a formal statement – essentially a mild slap on the wrist – stating they have taken the incident into account. It read: "Jeremy Clarkson has set out the background to this regrettable episode. We have made it absolutely clear to him, the standards the BBC expects on air and off. We have left him in no doubt about how seriously we view this."
Firstly, it certainly doesn't seem clear that Clarkson has set out any kind of background. He tried oh-so-hard to cover-up the foul word, but of the hundreds of thousands of lexical alternatives, he still managed to select that one. And secondly, from his past track record, Clarkson won't have paid any attention to the offence caused and will continue to offend hoards of people – whether they are homosexual, women, disabled or Mexican.
As long as ratings for Top Gear remain high, we are to continue enduring the double-denim buffoon and his Jurassic-age jokes. Television producers are rubbing their hands together with glee, as the headlines featuring Clarkson and their programme clock up. It is because of this that Jeremy Clarkson won't be sacked, nor will be he properly reprimanded.
If we put it into perspective, the BBC have laid off people for less. Back in 2002, Angus Deayton was dropped from Have I Got News For You, after allegations emerged in the papers that he took cocaine and used prostitutes. I'm not for one second stating that Deayton shouldn't have been sacked, but there seems to be a double standard for who stays and who goes. Why is racism tolerated? Perhaps it's because Top Gear accounted for half of the BBC's top 20 most popular shows on iPlayer last year.
Clarkson is not a racist, according to his co-star James May. But he does say racist things, thinly disguising his contentious comments with feigned ignorance or humour. Earlier this year, he made a remark about a "slope" on a Thai bridge. In 2011, he made a comment about Mexican cars reflecting the characteristics of people as "lazy, feckless, flatulent, overweight and leaning against a fence asleep looking at a cactus with a blanket with a hole in the middle on as a coat" (to which the BBC said national stereotyping was a part of British humour – is it? Nobody told me).
Clarkson is the problem. But so are we. A survey conducted by IBTimes UK revealed that actually, not all that many of us want to see the back of the presenter. Out of over 90 respondents, 75% said Clarkson shouldn't be sacked for the recent scandal. 66% said his apology was good enough, and just 34% said he had been let off the hook by the BBC too often. And 38% said his humour wasn't a relic of bygone ages.
We are so accustomed to the "it's just a joke" whitewash of insult, regardless of who it is aimed at or what it is, we cast aside Clarkson's idiocy. We are willing to forgive and forget in the name of witty banter, briefly appeased by another Clarkson apology. Maybe it's not just the BBC who need to step up to the mark, but us too.
© Copyright IBTimes 2023. All rights reserved.