Jeremy Clarkson has 'begged' the public for their forgiveness after he was caught on camera appearing to use the n-word while filming an episode of Top Gear.
It was alleged that Mr Clarkson uttered the n-word during filming of the third episode of Top Gear series 19, as the star reviewed the £25,000 Toyota GT86 and the Subaru BRZ.
In the unaired footage, the presenter was heard reciting the rhyme 'eeny, meeny, miny, mo' before apparently muttering 'catch a n***** by his toe'.
Earlier today the 54-year-old presenter took to Twitter to deny he used the offensive term, however he has now released a video statement saying, that while he made every effort to ensure he did not use the racist slur, he is "mortified and horrified" that it sounded as though he did.
In the video message posted on his official Twitter account, the solemn TV star offered a detailed explanation for his transgression saying: "A couple of years ago I recorded an item for Top Gear, in which I quoted the rhyme 'Eeny, Meeny, Miny Moe.' Now, of course, I was well aware that in the best known version of this rhyme, there is a racist expression that I was extremely keen to avoid.
"The full rushes show that I did three takes. In two I mumbled where the offensive word would normally occur and in the third, I replaced it all together with the word 'teacher.'
"Now when I viewed this footage, several weeks later, I realised that in one of the mumbled versions, if you listen very carefully with the sound turned right up, it did appear that I'd actually used the word I was trying to obscure.
"I was mortified by this, horrified, it is a word I loath. And I did everything in my power to make sure that that version did not appear in the programme that was transmitted. In fact, I have here the note I sent at the time to the production office.
"And it says, "I didn't use the n-word here but I've just listened through my headphones and it sounds like I did. Is there another take that we could use?"
"Please be assured I did everything in my power to not use that word," he said. "And as I'm sitting here begging your forgiveness for that fact that obviously my efforts weren't quite good enough."
Following Clarkson's video message, the BBC also released a statement, describing the incident as 'regrettable'.
The statement said: "Jeremy Clarkson has set out the background to this regrettable episode. We have made it absolutely clear to him the standards the BBC expects on-air and off. We have left him in no doubt about how seriously we view this."
Legal experts have said that if the presenter is found to have used the highly offensive word, he could have breached equality legislation, depending on the context in which the word was used and whether a crew member had been offended by what was said.
Solicitor Lucy Scott Moncrief said: "If it had been brought to the attention of the police they would have considered whether an offence had taken place and whether it was in the public interest to prosecute. All employers and programme makers have policies on discrimination and I would have thought that this kind of language would have been a breach of those and could have led to disciplinary action."
Since the furore Prime Minister David Cameron has distanced himself from Clarkson who is part of the same 'Clipping Norton' set. Cameron's official spokesman said: "Usage of that word would be quite wrong. If there are reports and allegations I am sure that is something the BBC would want to look at."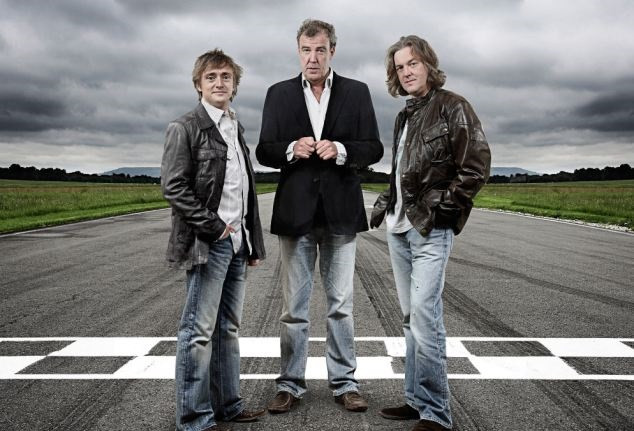 It's the latest outcry to follow a series of similar such comments made by Clarkson that have caused public offence.
Last week the executive producer of Top Gear admitted Clarkson had called an Asian man a 'slope' when he joked about the construction of a bridge in Thailand during the show's two-part Burma special.
Indian-born actress Somi Guha instructed lawyers to make a formal complaint about the use of the word during the programme, screened in March this year.
Clarkson and the other Top Gear presenters have also been accused of making racist remarks about Mexicans.
Today James May, who co-presents Top Gear with Clarkson, tweeted his support for his colleague.
He wrote: "Jeremy Clarkson is not a racist. He is a monumental bellend and many other things, but not a racist. I wouldn't work with one."
Richard Hammond, who also works on the show with Clarkson showed his support writing: "I 2nd May's comments re Clarkson. I can list a million things wrong with him, but he is absolutely not racist. An idiot, yes."