An Ohio teenager died of an infection caused by a "brain-eating" amoeba that she was apparently exposed to when she plunged into the water during a rafting trip to North Carolina with a church group.
Lauren Seitz died from primary amebic meningoencephalitis (PAM), a rare brain-destroying infection caused by Naegleria fowleri, a single-celled organism found in warm fresh-water, which is usually in lakes and rivers.
Officials from the US Centers for Disease Control suspect Seitz was exposed to the amoeba when a raft carrying her and other members of her youth group tipped over at the US National Whitewater Center in Charlotte.
The amoeba doesn't cause an illness if swallowed — but can be deadly if forced up the nose. There are only 10 cases or so a year, but nearly all of them are fatal. Of the 133 people infected since 1962, only three have survived.
Charlotte's Whitewater Center uses water from a local utilities network and two wells at the site, which is funneled through concrete channels intended to to simulate different classes of rapids.
The water is filtered and disinfected with chlorine and ultraviolent radiation sufficient to "inactivate" the amoeba, which a centre statement described as 99.99% effective. More chlorine was added to the water after Seitz's death and the centre has remained open.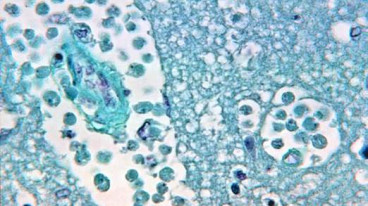 Local, state and federal officials are continuing to investigate her death and water samples from the river are being tested, reports the Charlotte Observer.
The centre "is as safe as any body of water," insisted county health director Marcus Plescia, who said the centre likely won't be closed. "Any time you go into a lake or pond, there are things in the water that can cause illnesses. We're not going to close every lake and pond."
Seitz was on the rafting trip as part of a youth-mission music tour, sponsored by the Church of the Messiah United Methodist Church from Westerville, Ohio. The group was in North Carolina to sing at nursing homes and churches. Seitz had recently graduated from high school in May and was preparing to attend Denison University in her home state of Ohio. There, she planned to major in environmental science and minor in music.
"Lauren understood the overwhelming beauty and fragility of life with uncommon clarity and cared so deeply about the welfare of other people and this world we all share," her obituary noted.
In 2015, Hunter Boutain, 14, died of the same infection after swimming in a lake in Minnesota. The dangerous amoeba was also found in drinking water in Louisiana following Hurricane Katrina hitting the US gulf coast in 2005.