There was yet more success for Team GB at Eton Dorney as Alan Campbell produced a superb performance in the men's single sculls to qualify for the semi-finals, while the women's eight secured a spot in the final of the repechage.
Team GB also went on to secure two more final places with Bill Lucas and Sam Townsend qualifying in the double skulls, while the men's lightweight four also came through their semi-final race with flying colours.
In the single event Campbell made the perfect start as he looked to lay down a marker to his bitter German rival Marcel Hacker, and he was able to do exactly that as he maintained his pace throughout the race to storm home in first place and secure his place in the semi-final.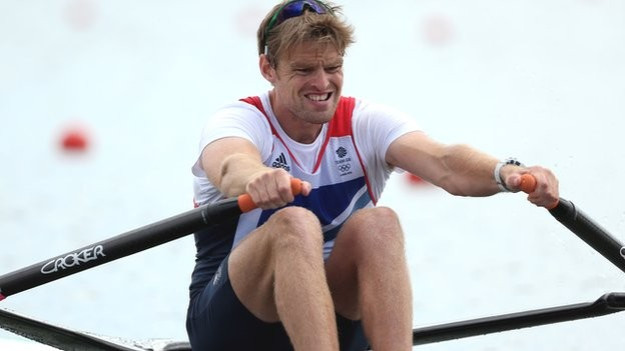 The Brit will be hoping to improve upon his fifth place finish in Beijing after an impressive showing at last year's world championships were he took the bronze medal.
There was also an impressive performance from the British crew in the women's eight who also managed to claim a bronze medal at last year's world championships and were hoping to secure a place in the final.
With four of the five boats qualifying for the final, it was all about laying down a marker, which unfortunately there were not able to do as they scraped through in fourth place ahead of Germany, but behind the Netherlands, Romania and Australia.
They will be joined in the final by teams from USA and Canada as they look to add an Olympic medal to the one they picked up at the worlds.
Later that afternoon Lucas and Townsend finished in third place to secure their spot in the final, while the men's four, which included brothers Peter and Richard Chambers also made the final after winning their semi-final race.
This success came on the back of yesterday's superb showing from Katherine Grainger and Anna Watkins in the double skulls who smashed the Olympic record which had stood for 20 years in a time of 6:44:33.
Away from the rowing there was disappointment for Euan Burton in the men's -81kg judo category as he was knocked out of the competition by Canadian Antoine Valois-Fortier who beat him with an ippon in their first round match-up.
The Brit admitted that he was now considering retiring from the sport after missing out on the chance to compete for a medal at a home Olympics.
"I don't know if it's the end of my competitive judo career but it's probably the end of my Olympic Games career," Burton said. "I wish I could have done a bit more for the people who have come down and watched and I know I could have done."