Bibiano Fernandes believes that win or lose, his legacy is already set in stone ahead of his title defence against Andrew Leone at ONE Championship: Kings and Conquerers on Saturday (5 August) at the Cotai Arena in Macau.
The Singapore promotion's bantamweight champion (20-3 record in MMA) is already the longest-reigning title holder in ONE Championship history and is currently undefeated since making his debut for the company back in 2012.
"My preparations are going smoothly," Fernandes told IB Times UK exclusively. "I have a great team surrounding me and I am working very hard for the fight."
"Andrew Leone is a worthy competitor. He will be a good challenge for my career. I plan to leave the cage still champion with the belt around my waist. It is an honor for me to defend my title in front of all the fans in Asia."
His opponent, 27-year-old Leone (8-2 record in MMA), trains at the renowned Bali MMA gym in Indonesia. While the American has only fought once since March 2014, "The Flash" is not underestimating his opponent.
"My opponent is constantly in shape," he said. "I am aware of the training that goes down in Bali and I believe it is a world-class facility. I am in no position to underestimate Andrew Leone. I fully expect the best version of my opponent by the time I step into the cage with him. One of the biggest mistakes a fighter can make is overlooking his competition. I won't make that mistake."
A win for Fernandes would put him at six title defences and while MMA legend Anderson Silva (34-8-1 record in MMA) holds the UFC joint-record with 10 title defences, the 37-year-old is not focused on emulating his fellow Brazilian.
"Anderson Silva is a legend in the sport, and a legend in Brazil," Fernandes explained. "It is an honour to be mentioned in the same sentence."
"But my legacy is set in stone, win or lose. I will go down as one of the greatest bantamweights in history. Every fight is an amazing opportunity for me to showcase my skills and I plan to bring everything I have into that cage."
One fighter looking to surpass Silva's record in the UFC is flyweight champion Demetrious Johnson (26-2-1 record in MMA) who happens to be Fernandes' training partner.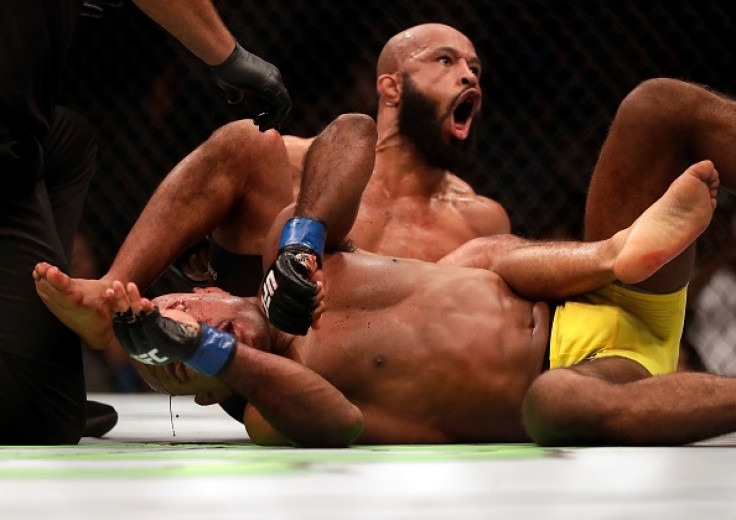 Johnson was recently involved in a controversy with UFC president Dana White over his lack of promotion but will now headline UFC 215 against Ray Borg as he looks to break the record of "The Spider."
"Demetrious Johnson is an amazing teammate, athlete and person," Fernandes added. "I am honoured to have had the chance to train with him and grow with him as a martial artist. He is one of the best fighters in the world and I don't see him losing anytime soon."
"I am in no position to make any comments regarding this matter [issue with Dana White], because I am not aware of the full details. All I can say is that I am glad and very proud to be a part of the ONE Championship family. ONE takes care of all the athletes and I am very fortunate that my career is in good hands."
When asked how Johnson would fare at ONE, Fernandes replied: "I think he will dominate where he goes. He is a tremendous martial artist. He is also a well-loved, respectable, and honest person."
At UFC 214, jiu-jitsu specialist and top welterweight contender Demian Maia endured a frustrating night against the champion in Tyron Woodley as "The Chosen One" stuffed all 24 of the Brazilian's takedowns.
Fernandes, a five-time Brazilian jiu-jitsu champion, however, believes Maia, who at 39 years of age probably had his last shot at the title, should have done more to win the fight: "Jiu-jitsu is only a part of mixed martial arts. In this game, we have to have a complete set of skills to be successful. The better man [Woodley] won that night."
As for the former DREAM champion, despite approaching his forties, he has no plans of retiring anytime soon.
"Right now I feel very strong, I feel very good," Fernandes said. "I would like to continue to defend my belt and remain ONE bantamweight world champion. I am not thinking about retirement right now. As long as I enjoy what I do and have fun in my career, I will continue."
"I have been through so many things in my life. I have had many defeats, and many victories both in and out of the cage. My career has been a blessing. I will continue to fight as long as I am willing and able."