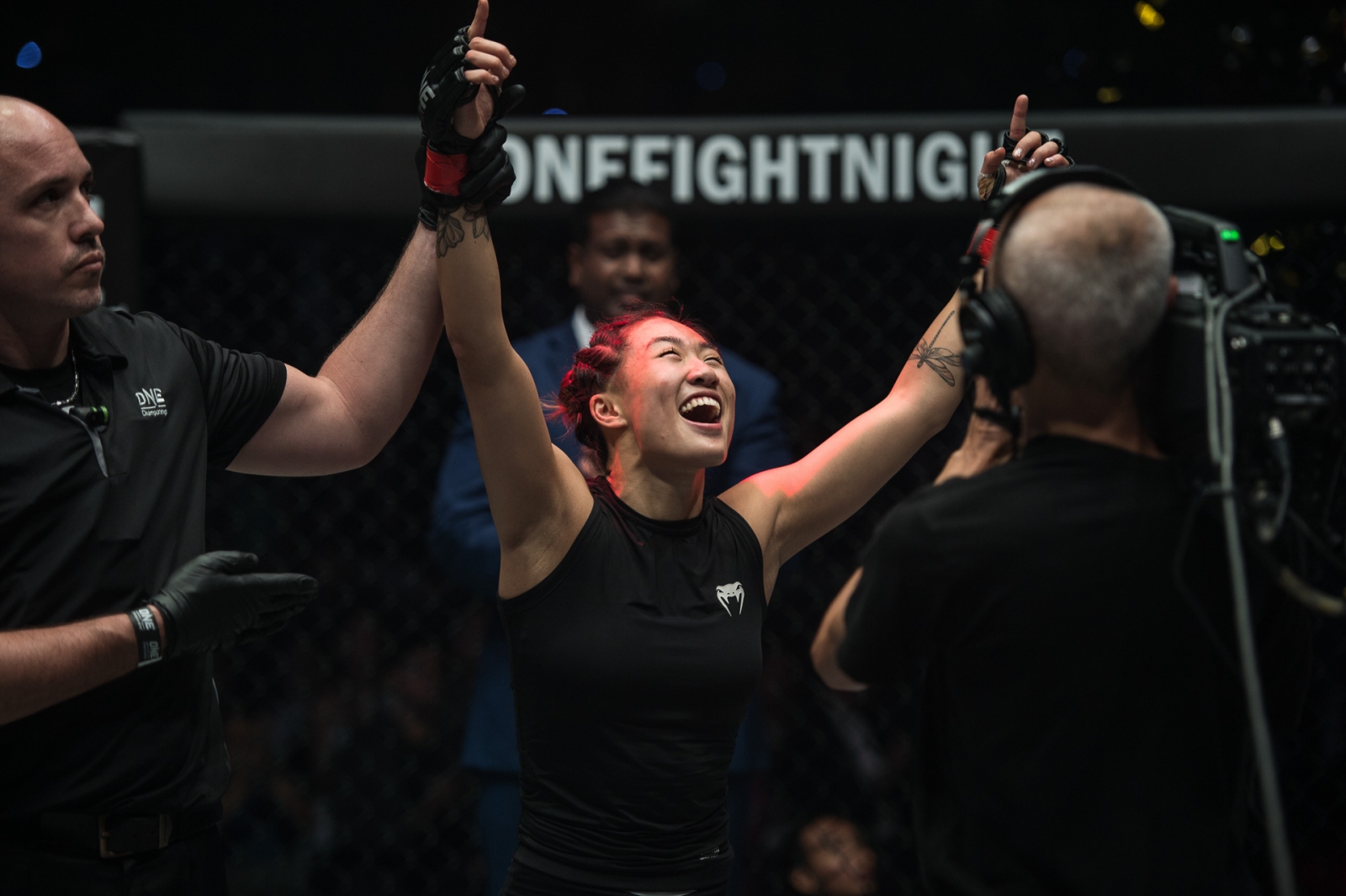 It seems there is nothing stopping Angela Lee. ONE Championship's undefeated atomweight champion, the youngest title holder in mixed martial arts history and now the face of the sport in Asia is enjoying the sort of inexorable rise that means she is quickly becoming impossible to ignore in the world of MMA.
At 20 years old she has the world at her feet, raising the profile of her sport among young Asian women in the same way Ronda Rousey once did in the US with UFC. What is next for her? She has drawn up a compelling checklist. Continue to clean house at her 115lbs catch weight. Become ONE's first ever double champion. And prove to anyone who stands in her way – be they a ONE fighter or from UFC – that this is her world – and they are just living in it.
But just a few days ago, circumstances outside Lee's control threatened to derail her journey. ONE's Dynasty of Heroes card on Friday (26 May) was to be Lee's big return to her spiritual home of Singapore, the birthplace of her father and coach Ken.
But two weeks before her atomweight title defence against Brazil's Istela Nunes, the Hawaii-raised fighter did not feel right. Under instruction from her father, she visited a doctor in Singapore and learned that she had a lung infection and was diagnosed with a bad case of pneumonia.
Inevitably, there were rumblings of Lee being pulled out from the main event slot that helped sell out the Singapore Indoor Arena. In the end, Lee put on a clinic as she submitted Nunes in the second round with a brutal anaconda choke. On the face of it, it had been business as usual. But within the Lee camp, the doubts that had crept in as a result of her illness meant victory number eight in the cage was hugely significant.
Speaking in her first in-depth interview since that victory, Lee told IBTimes UK: "I totally did not see it coming. Of course feeling a bit sick before a fight, it's not too unusual, your immune system is lower. But this time around, I knew the sickness was different, I felt it in my body that something was wrong. I was scared to go to the doctor and find out what it was because I didn't want it to stop me from fighting.
"ONE spoke to my dad about it [pulling her from the card], but in my mind, I was 100 percent fighting still, whatever the worst scenario was, I would never pull out of a fight, I had just worked too hard and had trained too long for this.
"The whole week I wasn't feeling good, whenever I did go out to greet the fans or talk to the media, I tried to put on my best face and try make out everything was OK. I didn't want to tell anyone beforehand I was sick, I didn't want any excuses for myself. I think that I had to put my best foot forward, the show must go on."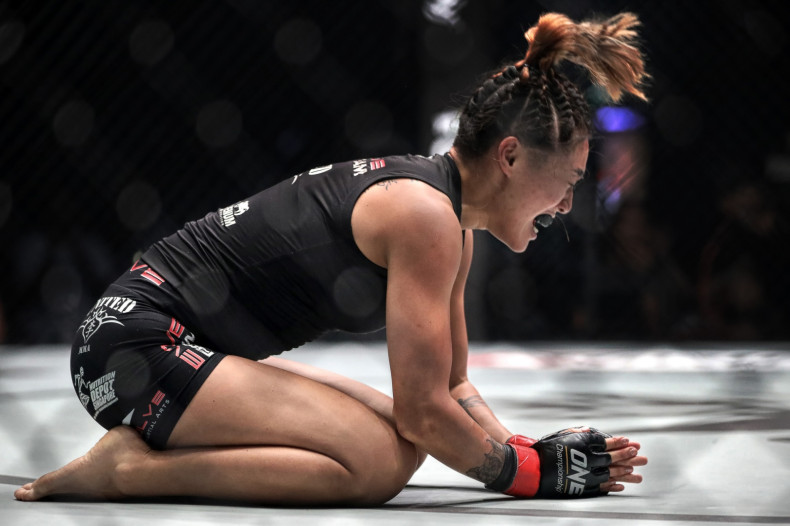 Despite her week from hell leading up the fight, Lee dominated Nunes, once again raising the question, who is going to stop her? ONE is determined to keep their champions competitive but with the 20-year-old superstar cleaning house so rapidly and so remarkably, the possibility of moving up a weight class and replicating Conor McGregor in becoming the first double champion within her promotion looms.
"It is one of my goals," Lee continued. "I don't want to rush things, I want to take it one step at a time and earn my way up into the next division. First of all I want to clear out the atomweight division, make sure there is no competition left before I go and take the next belt. It's my goal, be a multiple champion in two different weight classes."
Since defeating Mei Yamaguchi after five gruelling rounds in May 2016, Lee has defended her title twice at a relative canter. Her dominance in ONE has been so great that inevitably she gets asked about taking her talents further afield. ONE Championship chairman and CEO Chatri Sityodtong told IBTimes UK in March he would love to see his promotion's rising star tangle with UFC strawweight champion Joanna Jędrzejczyk. Sityodtong went onto invite UFC boss Dana White to pick up the phone and discuss the possibility.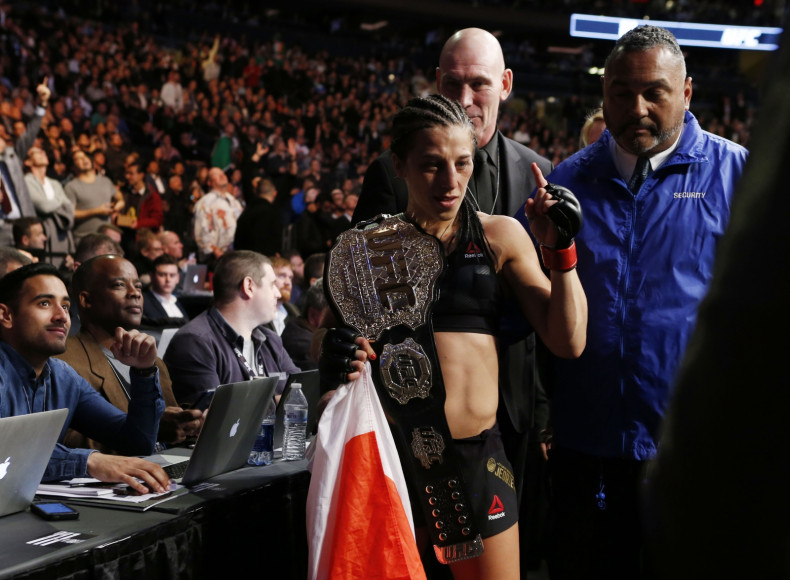 Victor Cui, the promotion's CEO International also adopts a 'why not?' approach to what would be a meeting of MMA's two most exciting female fighters at that weight, but was quick to insist that in the unpredictable world of combat sport, booking fights is never as simple as it seems. If it were up to her, Lee says there would be no problems in getting a deal done.
"I would be all for it. I'm very excited about that idea. If it was up to the fighters, anyone would be up for fighting anyone. It's just because of the organisations and what goes on that side of things [that makes it complicated]. I don't know if that would be a realistic thing in the near future, but for me, as a fighter, I'd be all for it fighting a UFC champion, I think it would be a great opportunity and I think the fans would love it.
"I'm confident in my skills. Joanna looks really great when she is fighting all these other girls that are kind of a mismatch. But I feel my skillset brings a whole different look to it. I think it would be a good fight.
"I know ONE are constantly growing the women's division, my weight class as well as the one above me. They are constantly recruiting fighters from different organisations. Who knows, my next fight could be someone from ONE Championship or could be with someone from another organisation, I'm not sure."
Lee will leave the decision over her next opponent in the hands of ONE. Admitting her recent illness has taken a toll on her body, her immediate focus is now on a break from the cage with family, who have been with her every step of the way.
With a return pencilled in for August or September later this year, Lee and ONE have some time to take stock and figure out her next move. Whatever it may be, it will certainly be another one forward.