A YouTube clip of a cat purring has been flagged by YouTube for alleged music copyright infringement.
The video in question, Cat Purr 1 hour - Phantom - Calm and relaxing for study, sleep or meditation, was uploaded last March and at the time of writing has received around 2,500 views.
Despite the modest view count, YouTube user Digihaven became embroiled in a copyright dispute with both EMI Publishing and PRS CS for its similarity to a song whose rights they own.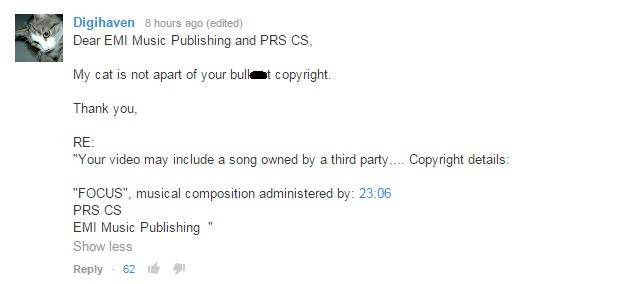 It took almost a year for the video to be flagged by YouTube for a Digital Millennium Copyright Act (DMCA) claim, and has since sparked bewilderment and outrage from Digihaven and other YouTube users.
"Your cat is more artistically creative that then a**holes of EMI," one user commented, while another has set up a campaign to bring back human verification for flagged content on YouTube.
"We must express the importance of restoring human verification of content that is flagged for copyright infringement," the campaign's page states.
"The current Content-ID system does not possess the ability to protect the rights of the amateur hobbyist when professional content creators are submitting new content at an ever-growing rate."
According to YouTube's automated takedown tool, a 12-second section of the cat purring infringed on the copyright of "a song owned by a third party".
In the copyright infringement warning posted by Digihaven in the comments section of the video, the song is named as "Focus".
A dispute has reportedly been filed by Digihaven on behalf of his cat, Phantom, and it is hoped the dispute can be resolved without having the video taken down.