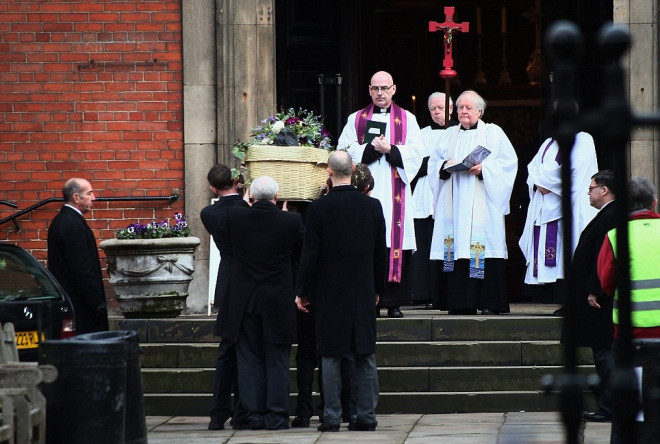 Sir David Jason and Emily Lloyd led the mourners at the funeral of Roger Lloyd-Pack.
The actor, best known for his role as the dim-witted Trigger in Only Fools and Horses, passed away at his London home on January 15 after losing a long battle with pancreatic cancer.
Stars from the popular BBC TV show and close friends of the much loved actor arrived at St. Pauls Church in Covent Garden, commonly known as The Actor's Church.
Lloyd-Pack's wicker coffin arrived in a pink hearse with one of his hats resting on top of it. His widow, the poet Jehane Markham, greeted mourners on the steps of the church ahead of the service.
Many of the mourners had worked with the actor during his long running career, including John Challis, who played car dealer Boycie, and Sue Holderness, who played Boycie's onscreen wife Marlene.
Nicholas Lyndhurst, whose character Rodney was famously referred to as 'Dave' by Trigger throughout the show's BBC run paid his respects.
Miranda Richardson, shared personal memories of the actor who she starred alongside in 2010 drama Made In Dagenham.
Alison Steadman, Nigel Havers and Kathy Burke, and Gary Mabbutt, a former footballer of the actor's favourite team Tottenham Hotspur.
Pack began his career in 1965. He won TV roles in The Vicar of Dibley and The Old Guys, and also starred in Harry Potter and the Goblet of Fire.