A website possibly affiliated with the online activist collective Anonymous is counting down to an unknown event, believed by some to be retaliation against the Charlie Hebdo attacks.
The website features a star and crescent symbol, commonly associated with Islam, and displays the words #Op.Charlie.Hebdo. The countdown is set to end at 8am GMT on Sunday, 11 January.
The website has appeared at the same time as a Belgian faction of Anonymous released a statement through Twitter declaring it will avenge the attack on the French satirical magazine Charlie Hebdo by rendering jihadist websites inaccessible.
"Anonymous must remind every citizens that the press's freedom is a fundement of the democracy [sic]," the statement reads. "Opinions, speech, newspaper articles without threats nor pressure, all those things are rights you can't change."
The Op Charlie Hebdo Twitter account, @OpCharlieHebdo, has released a list of Twitter accounts that it claims belong to known jihadists. A series of tweets in English and in French deplore other Twitter users to "get the word out" and ask Twitter to block them.
Halal website hacked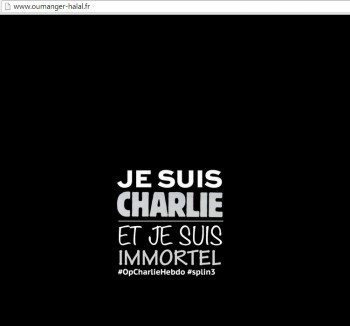 Some websites associated with Islam and Islamic practice have already been targeted by hackers, including some without any jihadist links whatsoever.
Those in charge of the Op Charlie Hebdo Twitter account have denied that they are responsible for defacing a French website that shows users where Halal restaurants and supermarkets are.
Ou Manger Halal currently displays a banner on its homepage that states "Je Suis Charlie et Je Suis Immortel", referring to the slogan adopted by those showing solidarity with those killed in the attacks and supporting freedom of speech.
The Op Charlie Hebdo Twitter account has also denied any association with the Opcharliehebdo.com website.
Some commenters on social media have speculated that a lack of any affiliation with known Anonymous groups could suggest that the site is a hoax.
Anonymous factions contacted by IBTimes UK have either denied association with the web page or are yet to respond to a request for comment. This article will be updated if any further information about the site emerges.