The Anonymous hacking collective has threatened a slew of financial institutions including the London Stock Exchange, PayPal and NASDAQ as part of a 30-day cyber-assault called 'Operation Icarus'.
In a video statement posted to YouTube on 4 May, the notorious group of hacktivists said: "We will not let the banks win, we will be attacking the banks with one of the most massive attacks ever seen in the history of Anonymous."
It continues: "We will be giving many tools to each and every 'Anon' all over the world, and we will be holding down PayPal, MasterCard, VISA, NASDAQ, Bank for International Settlements, all central banks, IMF, London Stock Exchange, and every major banking system will be targeted by Anonymous."
The news comes after hackers successfully disrupted the website of the Greek central bank by using a distributed-denial-of-service (DDoS) cyberattack. This method is frequently deployed by hackers and used to overwhelm a web server with traffic in order to knock it offline. The motivation, according to the hackers responsible, was to protest alleged corruption in the global banking system.
Following the website being taken offline, banking officials in Greece admitted the bank's systems were impacted by a DDoS-style hit, however denied that cyberattack caused serious harm to core services.
An official who works at the bank told Reuters: "The attack lasted for a few minutes and was successfully tackled by the bank's security systems. The only thing that was affected by the denial-of-service attack was our website."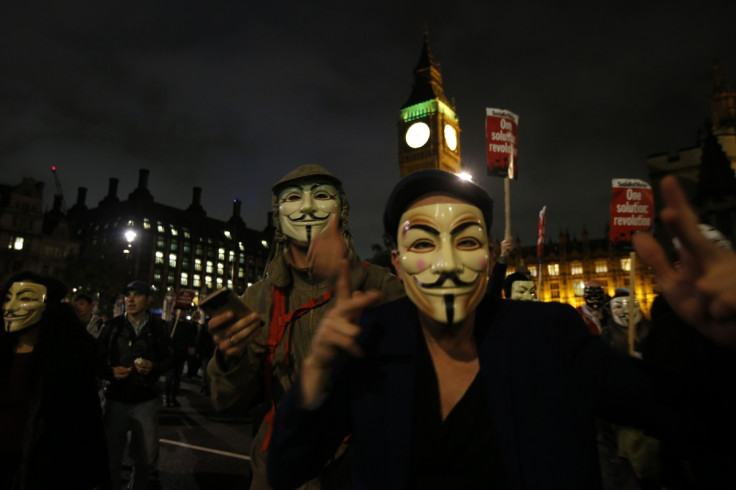 "Olympus will fall"
In a separate video posted to YouTube on 2 May, the Anonymous group said: "Olympus will fall. How fitting that Icarus found his way back to Greece. Today, we have continuously taken down the website of the Bank of Greece. Today, Operation Icarus has moved into the next phase."
The masked individual continued: "Like Icarus, the powers that be have flown too close to the sun, and the time has come to set the wings of their empire ablaze, and watch the system their power relies on come to a grinding halt and come crashing down around them. We must strike at the heart of their empire by once again throw a wrench into the machine, but this time we face a much bigger target - the global financial system."
Alongside the hacking operations, a Twitter account purporting to be related to the cyberattacks has been posting regular updates. In one post roughly 24 hours after the Greek central bank takedown, the hacktivists documented using a DDoS attack against the central bank of the Dominican Republic. The group claimed to have taken the website down for an entire day however, at the time of writing, the website is online and functioning.
Last year, it was heavily speculated that Anonymous-affiliated hackers were involved in the disruption of the New York Stock Exchange after it mysteriously went offline for three hours on the morning of 8 June.