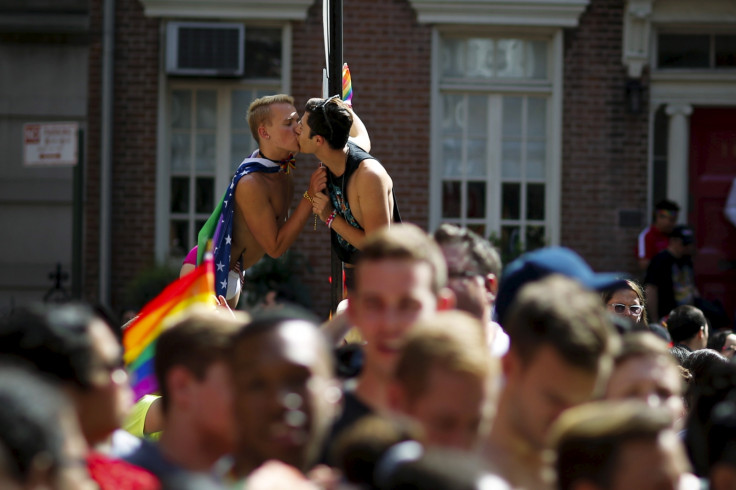 An Orthodox Jewish group is being criticised after it hired Mexican laborers to dress in tradition prayer garments and protest against the New York Pride parade.
The group, identified by the New York Times as the Jewish Political Action Committee, apparently hired the men so that younger members of the group would not have to go.
"The rabbis said that the yeshiva boys shouldn't come out for this because of what they would see at the parade," Hershey Freed, a member of the Brooklyn-based group said. Freed told the Times that the hired men were supplementary troops who were replacing Jewish students who typically protested for the group.
According to the Times, the group of hired men wore fringed Jewish prayer garments known as the tzitzit while holding up anti-gay signs. One sign being held read: "Judaism prohibits homosexuality."
Freed told reporters that parade-goers kissed defiantly in front of the group, which was fenced off at Fifth Avenue and 15th Street. Revelers also allegedly threw open water bottles, he claimed.
"It's been a lot of confrontation," he said. "Whenever you have emotions, you have a situation."
A fight eventually broke out between the protesters and the parade-goers, the New York Times reported. Nineteen-year-old Jasmine Brob told the newspaper that an Orthodox Jewish man swung at her friend. Brob responded with a punch to the man's eye.
"I ducked and then I swung at him," she said.
New York City's Pride parade was filled with especially joyous attendees after the US Supreme Court ruled the day before that gay and lesbian couples have a right to marry in all 50 states.