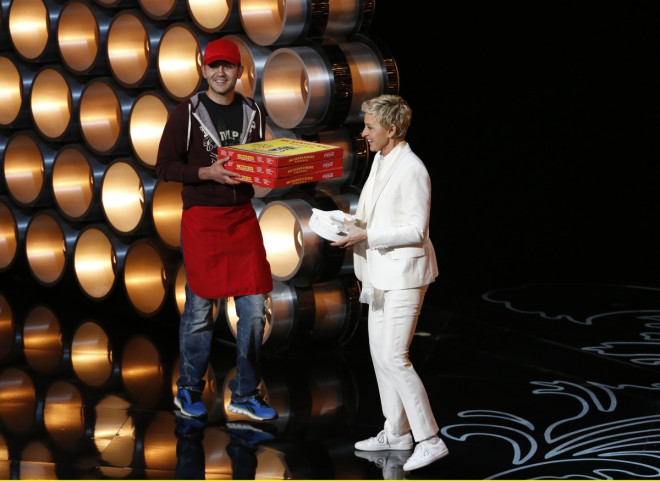 From landing on the Oscar stage from nowhere to meeting his dream actress and getting a huge tip to boot, pizza delivery man Edgar Martirosyan had it all in just one night.
Martirosyan had the best Sunday night at the Academy awards when show host Ellen DeGeneres called Big Mama's & Papa's Pizzeria in Hollywood to place a huge pizza order.
But was it all a staged theatric and not exactly a likeable coincidence?
Martirosyan brought huge yellow and red pizza boxes to the Dolby Theatre on Sunday night only to realise that he was actually serving pizzas to A-list Hollywood stars and was onstage at the Oscars.
This was undoubtedly the second most unusually funny Oscar moment after the star studded selfie that made waves during the show and caused a Twitter crash.
But was the pizza episode really spontaneous act? Questions have been asked about made the pizza outlet owner to disguise himself as the delivery man.
DeGeneres collected hundreds of dollars from Brad Pitt and Harvey Weinstein for tipping Martirosyan, the co-owner of Big Mama's & Papa's Pizzeria. Apparently he left without collecting the tip, but was later invited to The Ellen DeGeneres Show where the Oscar host gave him a hefty tip of $1,000 (£600).
The Los Angeles-based pizza chain has around 20 outlets. The chain grabbed instant fame and the advertising boost it got at the Oscars is estimated to be worth around $1.8mn.
The Pizza chain is getting huge orders after the Oscar night, the Los Angeles Times has reported.
"You said just follow me, and I'm going and I'm on a stage. I was in shock," Martirosyan told DeGeneres during the talk show.
"They just called and they ordered pizza and I'm the owner of that pizzeria actually and it was really extremely busy so I just grabbed those pizzas and I delivered and when I went there I didn't know that I'm gonna go on stage," the Kiis FM quoted Martirosyan as saying.
"They told me I'm gonna deliver for riders and then when I was waiting and Ellen came up and she just told me 'just follow me' and I'm like 'where are we going' and she said 'just follow me' and then I went and I'm like 'wow', I was shocked, I was on stage" the pizzeria co-owner added.