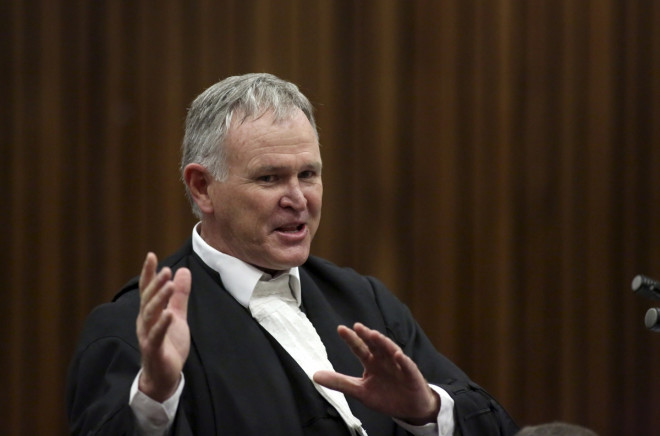 The friend who was with Oscar Pistorius when he allegedly fired guns in public was accused of "engineering evidence" at the runner's murder trial.
Lawyer Barry Roux said prosecution witness Darren Fresco had "engineered evidence" relating to a trip to the River Vaal by him, Pistorius and former girlfriend Samantha Taylor.
Their vehicle was stopped twice by police during the trip and Pistorius allegedly fired a gun inside the vehicle after one incident.
Roux showed a photograph sent to Pistorius by Fresco which he had previously said he had no memory of taking. Fresco admitted he must have taken the image.
At North Gauteng High Court, Roux said: "I put to you [that] you engineered false evidence in cross-examination.
Fresco replied: "I did not create any false evidence. If you have the photo I sent him then I must have been driving at the time. [But] I do not remember this."
Roux answered: "It's more than that, it's you coming back [here] and under oath give evidence incorrectly showing who was driving, and engineering evidence that it was in the morning. It could only have been you."
During the previous day's proceedings, Roux forced Fresco to admit he had been following proceedings on Twitter, which Roux claimed meant Fresco could "tailor" his own testimony and undermine his own evidence.
Roux was attempting to cast doubt on the testimony of Fresco. Prosecutor Gerrie Nel summoned Fresco in a bid to potray Pistorius as a hot-headed gun nut.
Olympian and Paralympian Pistorius, 27, is standing trial for murdering his girlfriend Reeva Steenkamp, 29, on Valentine's Day last year, at his luxury home in a gated complex on the outskirts of Pretoria. He denies the charge and also faces up to four firearms charges.
This week Pistorius vomited repeatedly during evidence from pathologist Gert Saayman, who described the injuries infliected on Steenkamp by the bullets Pistorius fired.
The trial continues.