Doubt was cast over the evidence of witness Darren Fresco after he admitted following the Oscar Pistorius murder trial on Twitter.
Fresco admitted tracking events under close questioning by Barry Roux, who is defending the Bladerunner on the charge of murdering his girlfriend Reeva Steenkamp.
Roux said it meant Fresco's evidence could have been "tailored" by what he had read about the trial on social media - making it unreliable. During gruelling questioning by Roux, Fresco looked visibly uncomfortable and squirmed at the witness stand.
Undermining Fresco was important for the disabled track star because his and Fresco's versions of events differ in some respects.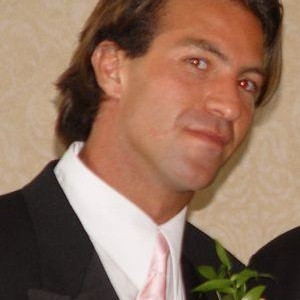 Fresco also revealed Pistorius, 27, was fond of displays of largess when he went out with friends and would usually pay the bill at restaurants.
Fresco said he told Pistrorius "are you f***ing mad?" when the runner allegedly fired a gun inside a car as the pair drove home from one engagment.
Roux also probed for discrepancies between what Fresco said in his witness statement and his testimony at North Gauteng High Court.
Fresco was a friend of the Paralympian and Olympian, who was with him with a gun went off by accident at Tasha's restaurant in Johannesburg, only weeks before Steenkamp died. The pair were also together when a bullet was fired through the sunroof of a car they were travelling in, with Pistorius's ex-girlfriend, Samantha Taylor.
Pistorius allegedly begged Fresco to take the blame for the restaurant incident due to fears over "media hype." But Fresco could not explain why he failed to mentioned this in his witness statement.
Recalling the incident at Tasha's when Pistorius fired a gun in to the floor, grazing the foot of young boxer Keven Lerena, Fresco said: "Being someone I thought is competent with a weapon I thought he would have checked if the magazine was still in the weapon. If the roles were reversed I would have checked to make sure the magazine was in."
Earlier in the day seven of the Pistorius trial, the disabled runner appeared more composed while listening to pathologist Dr Gert Saayman.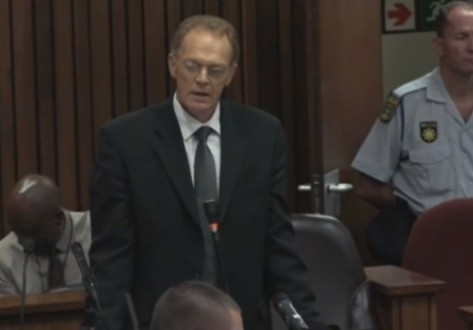 The fallen track star stayed calm and did not vomit repeatedly in to a bucket like yesterday when Dr Gert Saayman was questioned in the court.
Saayman said the shot fired by Pistorius which hit Steenkamp in the head would have caused "complete incapacitation" for the blonde.
Roux deployed his skill in cross-examining to try and introduce doubts in to the pathologist's testimony, saying: "I never understood your evidence to be exact." Saayman answered: "My evidence was based on probabilities."
Saayman remained calm and looked unflappable during the cross-examination. But he admitted there could a margin of error of up to two hours in the official time between Steenkamp's last meal and her death in a hail of bullets fired by Pistorius.
That could yet be significant because Pistorius previously claimed that he his girlfriendwere in bed by 10pm on the night she died. However, the post mortem indicated Steenkamp ate around three hours before her death at around 3am.