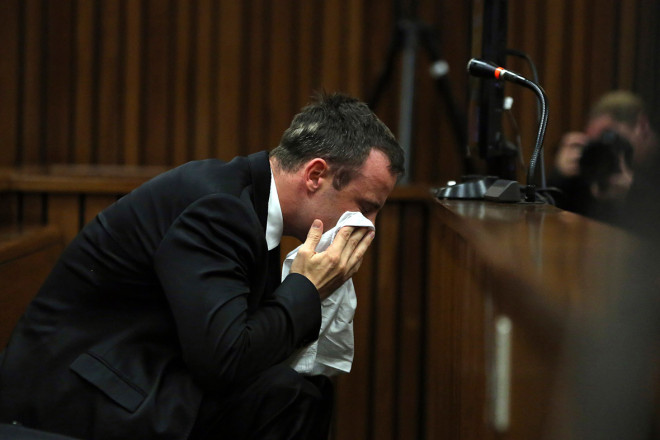 Oscar Pistorius has broken down uncontrollably in court, forcing the judge to rule a brief adjournment.
The former Olympic athlete was describing the moments he first realised he had shot girlfriend Reeva Steenkamp, when he began to cry loudly and was no longer able to talk.
"I sat over Reeva and I cried," Pistorius, who publicly spoke on the details of the shooting for the first time on Tuesday, told the judge. "I don't know how long I was there for."
"At that point all I wanted to do was just look inside to see if it was Reeva," the Bladerunner said, and then broke down and wept uncontrollably.
Pistorius did not stand up when the judge left, and also started to wail as he sat slumped over on the witness stand.
His brother and sister went over to him to comfort him and he left the courtroom through a side door, still crying.
When Judge Thokozile Masipa returned, she called an early adjournment.
Pistorius, who is charged with premeditated murder and faces a life sentence with a minimum of 25 years, claims he shot his girlfriend after mistaking her for an intruder in his bathroom.
He said that he heard a window open in his bathroom in the early hours of 14 February 2013, causing him to believe intruders had entered his house.
He then raced to get to his gun to defend himself and his girlfriend, who he claims he thought was still in bed.
Pistorius also claims he was not wearing his prosthetics — and therefore felt more vulnerable — when he shot through the door.
In the courtroom, he sat on a wooden bench and took off his prosthetics and approached the bullet-marked toilet door to show his diminished height.
The prosecutors aruge that Pistorius' story an intricate lie and maintained he intentionally killed his girlfriend after an argument.
In the South African legal system there are no jury trials and Pistorius' innocence or guilt will be decided by Judge Masipa.
The trial continues.