Tearful Oscar Pistorius offered an emotional apology to the family of Reeva Steenkamp as he spoke for the first time at his murder trial.
The accused runner struggled to maintain his composure and broke down in tears as he said sorry to his girlfriend's family - who were looking straight at him in court.
In dramatic scenes, Pistorius told a packed courtroom: "If I might just please start by tendering an apology. I would like to take this opportunity to apologise to Mr and Mrs Steenkamp, Reeva's family and those of you who knew her who are here today.
"There's not a month and there hasn't been a moment since this tragedy happened that I have not thought about your family.
"I wake up in the morning and you are the first people I pray for. I can't imagine the pain and sorrow you feel. I was trying to protect Reeva. I promise when Reeva went to bed that night she was loved.
"I've tried to put my thoughts on paper to write to you, but no words would ever suffice."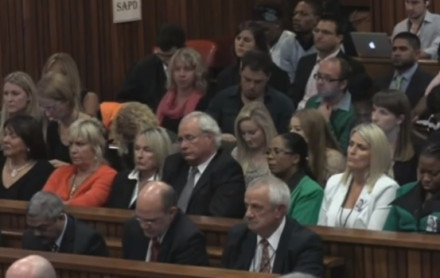 Reeva's mother June Steenkamp was in court with members of her family on the first day of the trial since a week-long adjournment.
Earlier in the trial, June Steenkamp explained her personal reason for attending days of gruelling proceedings. "The whole point was that he must see me there," she said. "I'm her mother and what happened to her was terrible [...] I wanted him to see me there, that I'm there representing Reeva."
Filming of Pistorius at the witness stand has been banned by the judge, meaning that only audio of his voice is being broadcast from North Gauteng High Court.
Pistorius, 27, was cross-examined by his defence lawyer Barry Roux on the first day of the defence's case.
The Olympian and Paralympian denies murder and claims he mistook Steenkamp for an intruder inside his luxury home on the outskirts of Pretoria. The prosecution alleges he killed her following an argument between the couple.
The trial continues.