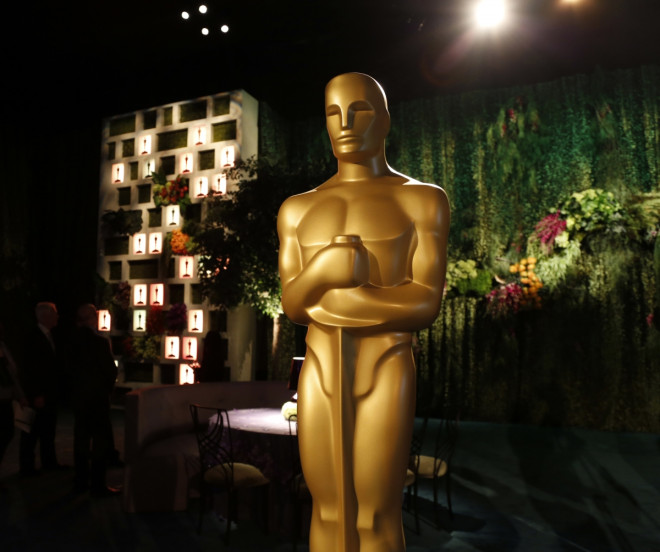 5:03 - Good night folks, it's been fun. Let's end on a fun note, let's end with a happy gif.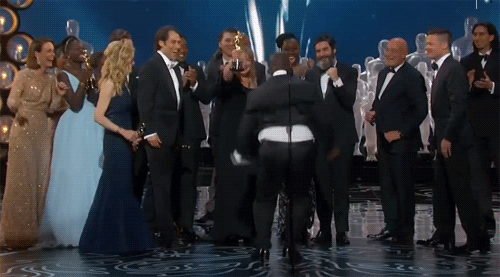 5:00 - Brad Pitt kicks off the speech, setting up Steve McQueen - who was clearly overcome by the moment. He ends his speech jumping around the stage, and that's our show!
That's seven wins for Gravity, three for 12 Years a Slave, three for Dallas Buyers Club, two for Frozen and two for The Great Gatsby.
4:57 - 12 Years a Slave wins Best Picture!
4:56 - This is it the Best Picture Award, presented by Razzie award winner Will Smith. Will it be 12 Years a Slave or will Gravity totally dominate the night?
4:53 - Everybody with me now, "Alright, alright, alright". McConaughey gives a doozy of a speech with tears in his eyes. Best Picture up next...
4:51 - Matthew McConaughey wins Best Actor for Dallas Buyers Club.
4:49: Best Actor now, and Jennifer Lawrence is here to run us through the nominees. There'a a whole lot of talent in this category.
4:46: Cate Blanchett thanks all the other nominees and says to Julia Roberts "Hashtag suck it". Adds: "Movies with female leads aren't 'niche' and they earn money. THE WORLD IS ROUND, PEOPLE."
4:44 - Cate Blanchett wins Best Actress for Blue Jasmine. Of course she does.
4:41 - Daniel Day-Lewis is here to hand out the Best Cate Blanchett Actress Award.
4:35 - Alfonso Cuaron wins Best Director for Gravity.
4:32 - Angelina Jolie and Sidney Poitier are here. That's a lot of star power for one stage. They're here to present the Best Director prize, will it be Alfonso Cuaron for Gravity or Steve McQueen for 12 Years a Slave.
4:27 - Spike Jonze wins Best Original Screenplay for Her. Yay!
4:25 - John Ridley wins Best Adapted Screenplay for 12 Years a Slave. That's the film's second award of the night. Ridley thanks Solomon Northrup, "These are his words, it's his story."
4:24 - Back to Travolta again...
4:22 - Screenwriting awards coming up. We're on the home straight folks!
4:16 - Let It Go wins Best Original Song. Suck it Bono! Kristen Anderson-Lopez and Robert Lopez give an amazing, hugely enthusiastic acceptance speech. Very cute.
4:14 - Steven Price wins the Best Original Score prize for Gravity. That's award number six!
4:12 - Jamie Foxx and Jessica Biel here to give out the Best Original Score award. Jamie Foxx is being weird, he's singing Chariots of fire to himself and slow motion running. He's had one too many Red Bulls I think.
4:10 - Nightmares...
4:08 - Creepy John Travolta and his creepy hair are here to introduce Let It Go, being performed by Idina Menzel.
4:05 - Yo Goldie Hawn, what up!?
4:01 - Bette Midler is here to tell us we're the wind beneath her wings through the medium of song. It seemed to go on forever.
3:53 - Eight categories remain as Glenn Close enters stage right to introduce the In Memoriam montage.
3:49 - Another montage of heroes, starring Bond, Matrix, Star Wars, Rocky, the amazing Presidential speech from Independence Day, Mission Impossible, It's a Wonderful Life, Harry Potter, Avengers Assemble and... erm... Rush Hour.
3:48 - Well, obviously.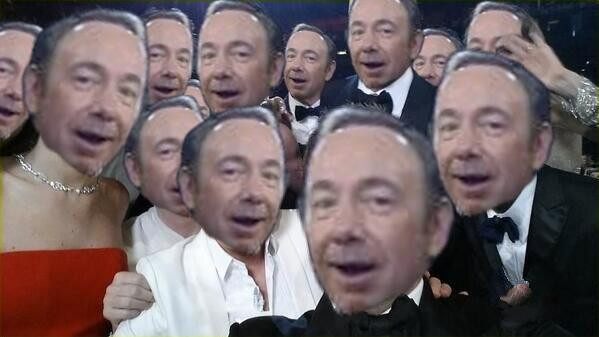 3:45 - The Great Gatsby wins Best Production Design. Something finally beat Gravity to a technical award!
3:44 - Benedict Cumberbatch is here and somewhere Buzzfeed has exploded.
3:42 - All these awards for Gravity make a Best Director and Best Picture win more likely than ever. Could a science fiction film win the top award for the first time ever?
3:37 - And here's Harrison Ford getting excited about something for the first time this evening. It's pizza of course, who wouldn't get excited for pizza? Meanwhile Pink belts out Somewhere Over The Rainbow.
3:36 - Here's Bill Murray's funny, fitting tribute to friend and co-worker Harold Ramis.
3:35 - Whoopi Goldberg introduces a celebration of The Wizard of Oz to continue the night's hero theme. She welcomes Alecia Moore (that's Pink to you and me) who sings over a tribute to the classic film.
3:31 - Gravity wins Best Film Editing. That's the film's fifth award of the night. Dallas Buyers Club is the only other film with more than one win, it has two.
3:30 - Enter Anna Hendricks and Gabourey Sidibe are here to present the Best Editing award.
3:27 - Graviy wins Best Cinematography after Bill Murray adds Harold Ramis to the list of nominees for Caddy Shack, Ghostbusters and Groundhog Day. Nice touch.
3:26 - Academy president Cheryl Boone Isaac announces plans to build what looks like a Bond villain's lair. Amy Adams and Bill Murray are here to present the award for cinematogrpahy.
3:21 - Benedict Cumberbatch shed a tear during Lupita Nyong'o's speech. He wasn't the only one. Ellen is here with pizza she "ordered" earlier.
3:16 - Lupita's speech is incredible, she recognises the suffering of her character Patsy. "I want to salute the spirit of Patsey for her guidance." She thanks Chiwetel Ejiofor, Steve McQueen and Michael Fassbender for being "her rock".
Amazing speech and a very, very popular winner.
"When I look down at this golden statue, may it remind every little child that no matter where you're from, your dreams are valid."
3:14 - Lupita Nyong'o wins Best Supporting Actress. Yes!!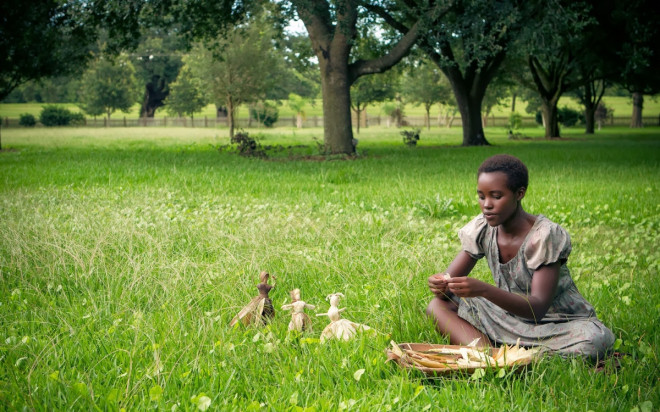 3:12 - Christoph Waltz is here to hand out the Best Supporting Actress prize.
3:10 - After a brief auto-cue fluff from Charlize Theron, Gravity wins Best Sound Mixing and Sound Editing.
3:07 - I MEAN JUST LOOK AT IT!
3:04 - I take that back, she put together the most famous selfie ever and Jennifer Lawrence said someone should drop/grab a boob.
3:02 - Ellen taking another selfie. She's not being a great host is she?
3:01 - Best Supporting Actress up next. Should it be Lupita Nyong'o or Jennifer Lawrence? I'd be happy with either, but Sally Hawkins should be up there too.
2:58 - U2 recieve a standing ovation from the Dolby Theatre crowd and intense apathy from everyone watching at home. "If you can't say anything nice, don't say anything at all," as my mum used to say. If only she knew back then I'd become a journalist.
2:57 -
2:54 - Ellen has changed into an entirely white suit. There's some mild wooping. Brad Pitt comes out to introduce U2, who are playing their Original Song nominated Ordinary Love from Mandela: Long Walk To Freedom.
2:49 - The Great Beauty wins Best Foreign Language Film for Italy.
2:48 - Ewan McGregor and Viola Davis here to present the Best Foreign Language Film award.
2:46 - Angelina Jolie, Steve Martin and Angela Lansbury's wins at the Governor's Awards dinner. Jolie's thanked her sadly departed mother for inspiring her.
2:40 - Darlene Love belted out a little number for us and got a standing ovation. Weird. Kevin Spacey is out next and doesn't sing.
2:38 - 20 Feet From Stardom wins Best Documentary Feature. Well this is awkward...
2:37 - Bradley Cooper is here to give The Act of Killing its Best Documentary Film award. He hasn't announced it, it's just obvious.
2:34 - The Lady in Number 6 wins Best Documentary Short.
2:32 - Anyone else get the feeling Helium only won because Academy voters voted for the film that was easiest to pronounce?
2:32 - Helium wins Best Short Film.
2:29 - Yes, let's...
2:24 - Zac Efron is introducing Karen-O of the Yeah Yeah Yeahs as she performs the excellent Moon Song from Spike Jonze's Her. This or Frozen's Let It Go to win Best Original Song please.
2:22 - Gravity wins Best Visual Effects.
2:21 - Joseph Gordon-Levitt and Emma Watson are here to send Tumblr into an excitement coma. They're presenting the visual effects award.
2:17 - Sally Field in da house, she's introducing another little video about heroes. Milk, Schindler's List and journalist favourite All The President's Men all present.
2:15 - Frozen wins Best Animated Film. As well it should.
2:14 - Mr Hublot wins Best Animated Short Film.
2:13 - Important!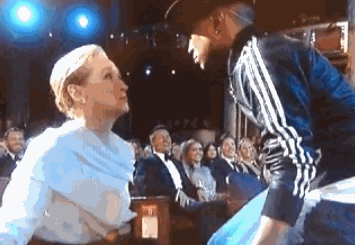 2:10 - Ellen has some consolation scratch cards for Bradley Cooper. How thoughtful. Matthew McConaughey and Kim Novak are here to present the animated categories. Frozen has to win right?
2:08 - And C-Tates is gone again. Harrison Ford sounded typically unenthusiastic before him, I swear the most excited I've seen him was when he played videogame Uncharted 3 in a promotional video. Even then he was only acting excited.
2:06 - Channing Tatum is here. C-Tates!
2:05 - If The Wolf of Wall Street was half an hour shorter it'd be my pick for Best Picture and Marty would be my pick for Best Director.
2:03 - The legend that is Harrison Ford is here, and he's sporting one hell of a goatee. He's here to introduce the first three Best Picture nominees.
2:00 - Dallas Buyers Club wins the Best Hair and Make-Up award.
1:58 - Catherine Martin wins the Best Costume Design award for The Great Gatsby.
1:57 - Pharrell dancing with Lupita Nyong'o. Cool people being cool.
1:54 - It's hard to be skeptical about Pharrell's nomination because Happy is such a cracking pop song. U2 though, U2 were only nominated because they said they'd perform.
1:49 - Carrey is here to be weird, gurn and make a cracking LSD joke. There's a video about animation. Kerry Washington is up next to beckon our first musical performance from Pharrell Williams, who is sporting that big dumb hat of his
1:48 - Ellen takes a selfie and says the word hashtag. Social media just took another step towards irrelevence. Also Jim Carrey is here.
1:46 - Jared Leto gives a half-great half-weird speech, mentioning Ukraine for some reason. He thanked those dearest to him and dedicating the award to all those who lost their fight with AIDs.
1:43 - Jared Leto wins Best Supporting Actor. Well, duh.
1:41 - Anne Hathaway is here to hand out the Best Supporting Actor prize! Jared Leto, Michael Fassbender, Bradley Cooper, Jonah Hill or Barkhad Abdi, who will it be?
1:40 - "I'm not going to say who's the most beautiful, but it's clear: It's Jared Leto." Fair enough Ellen. Fair enough
1:39 - Rock star!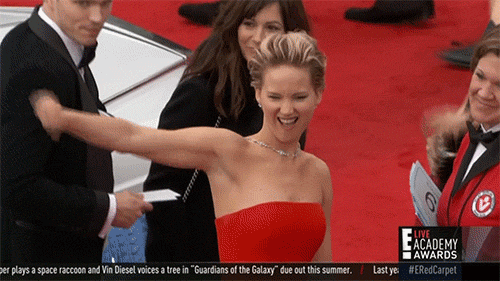 1:36 - Ellen taking us through a very run of the mill opening monologue. It may have become samey over the years but Stephen Fry's apathetic wordsmith act will always be king.
1:34 - We have our first "ha ha you're old" joke, directed at June Squibb, before showing us first time nominees Lupita Nyong'o and Barkhad Abdi, who are very popular!
1:32 - And the award for best photobomb goes to.... Benedict Cumberbatch!
1:30 - Here's Ellen Degeneres to kick off the show. She's already better than last year's host Seth MacFarlane. Hooray for no inappropriate boob jokes!
1:28 - Here we go! Quick loo break and we're away.
1:24 - My red carpet analysis: Everyone is better looking and better dressed than me, as I sit here with powdered sugar around my mouth wearing stetched out pyjama bottoms. Thug life.
1:21 - NINE MINUTE WARNING (because I missed 1:20, just)
1:17 - Bradley Cooper is here sharing some prime banter with Jonah Hill. BANTS.
1:12 - Snack update: Pizza half-finished (rest tomorrow) moving on to the sheer energy-giving power of Jelly Babies.
1:10 - PREDICTIONS:
Best Picture - 12 Years a Slave. Best Director - Alfonso Cuaron. Best Actress - Cate Blanchett. Best Actor - Matthew McConaughey. Best Supporting Actress - Jennifer Lawrence. Best Supporting Actor - Jared Leto.
WHO I WOULD PICK:
Best Picture - 12 Years a Slave. Best Director - Steve McQueen. Best Actress - Cate Blanchett. Best Actor - Matthew McConaughey. Best Supporting Actress - Jennifer Lawrence/Sally Hawkins. Best Supporting Actor - Michael Fassbender.
1:06 - TWENTY FOUR MINUTE WARNING!
1:01 - The boys are pushing the boat out on the red carpet this year. The traditional back tuxedo is SO last year. Matthew McConaughey and Jared Leto are rocking the white tux with Pharrell Williams wearing shorts because he's a pop star and if a pop star ever dresses normally they become instantly irrelevent.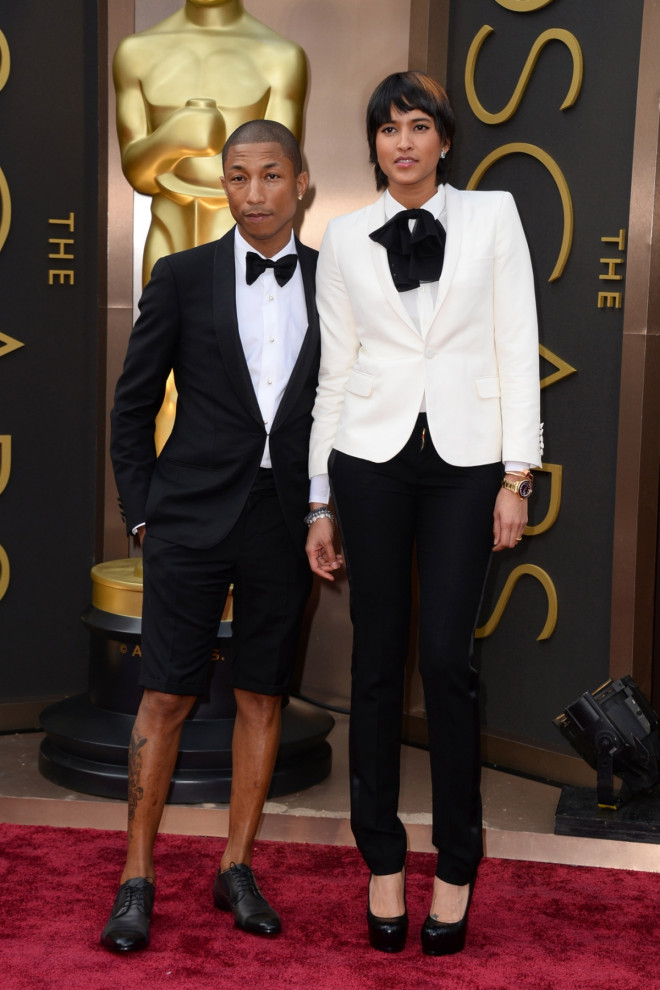 12:56 - Alex Zane is currently chatting to George Clooney about what the Oscars are about as we re-live Argo's big win last year. Will anything top the sheer quality of beards last year?
12:50 - What's an Oscars after-party without Conan O'Brien anyway?
12:50 - In a break from the journalistic gushing I'm going to express an opinion - I didn't think Nebraska was fantastic, at least not as fantastic as the other Best Picture nominees. Bruce Dern and June Squibb deserve their nominations thoroughly.
12:46 - Excuse me for ten minutes or so. This pizza won't eat itself.
12:44 - Speaking of wonderful. Lupita Nyong'o looked amazing on the red carpet yet again, it's not even surprising now. She could turn up wearing a bin bag and everyone would tripping over themselves to ask whether it was a Topshop or Marks and Spencer dress or whatever.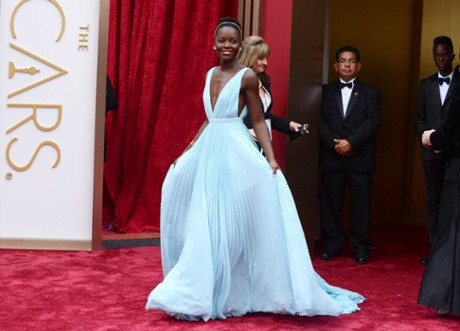 12:40 - Jennifer Lawrence is here. She fell over on the red carpet apparently because she's quirky and just like us! JUST LIKE US. Don't worry, I'm not one of those folks who thinks her whole act is fake. She's wonderful.
12:37 - 1 billion people are watching, and now I am too. My pizza just arrived, I'm delighted to see Ben Miller is helping make Sky Movies' coverage bearable and Amy Adams is on my screen. Good start Oscars, good start!
12:34 - In the great words of Heath Ledger's Joker...
----------------------------------------------------------------------------------------------------------
Tonight's 86th Academy Awards is the most hotly contested in years. From Matthew McConaughey, Chiwetel Ejiofor and Leonardo DiCaprio duking it out for Best Actor to a Best Picture field loaded with quality, every category is packed with potential worthy winners.
IBTimes UK will be covering the event as it happens right here from 12:30am, so if you're staying up, be sure to check back with us as you settle in for a night of energy drink, processed food and SHOWBIZ.
After months of build-up, the awards season will come to a head and we've been eagerly tapping away all week with predictions for the crowning moment of the film calendar.
We've pondered whether this is the the strongest Oscar race in history and discussed why there shouldn't be a backlash against Jennifer Lawrence if she beats Lupita Nyong'o to Best Supporting Actress.
IBTimes UK has also taken a look back at the worst and weridest red carpet dresses and taken a look inside the £33,000 Oscar goody bag.