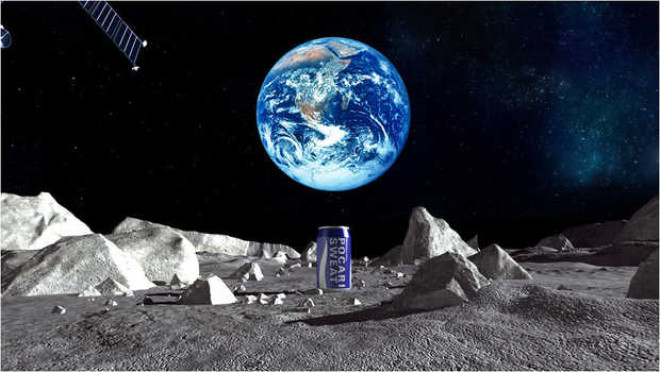 Japanese drinks company Otsuka has announced plans to send a can of its sports drink Pocari Sweat to the moon. The 1kg titanium container will contain a small amount of the drink, albeit in powdered form, in the hope it can be mixed with the water now known to exist there.
Otsuka claims Pocari Sweat will be the first beverage to be sent to the moon. US-manufactured Tang was drunk by astronauts on Apollo missions, but it is not known if it made it to the lunar surface.
Along with the beverage there will be a number of silver disks etched with messages by children from all over Asia. In the words of the company: "The time capsule contains the children's dreams." Every child whose message is inscribed receives a free "dream ring" – a ring pull specially destined to open the tin.
According to an Otsuka press release, "Human beings always need fluids and ions (electrolyte). As a drink to quickly replenish fluid and ions (electrolyte) lost in perspiration, POCARI SWEAT has been supporting people since its launch in 1980. Otsuka hopes that one day youths interested in space will live out their dreams, collect the DREAM CAPSULE, and drink the POCARI SWEAT mixed with the water found on the moon."
As a marketing campaign, sending a drink to the moon doesn't come cheap. Otsuka will have to pay Pittsburgh-based Astrobotic Technology to "deliver" the can, at a cost of a reported $500,000. Astrobotic usually devise ways to remove "space junk", but in this case they are making an exception as the project will help fund their entry to Google's Lunar X competition. If they succeed they stand to win $20 million.
Using the moon and outer space to advertise products has been a staple of science fiction from Robert A Heinlein's "The Man who Sold the Moon" to David Mitchell's Cloud Atlas, but has long been a reality. In 1997 Israeli milk company Tnuva filmed a commercial aboard the Mir space station. In 2001 Pizza Hut paid for two pizzas to be delivered to the International Space Station (ISS). Also in 2001 Otsuka shot a commercial where two Russian astronauts aboard ISS drank Pocari Sweat.