Ottawa Shooting: Multiple Gunmen Suspected as Third Shooting Near Rideau Centre Mall Confirmed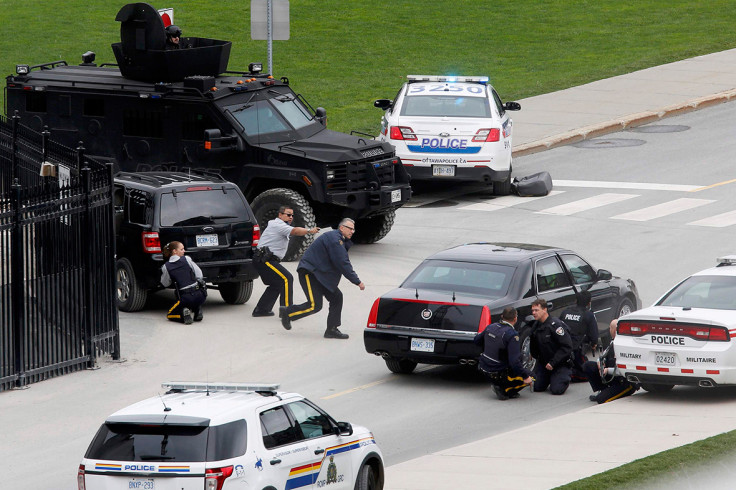 There may be as many as five shooters involved in the attack on Ottawa as a third set of shots have been reported near the Rideau Centre Mall in the Canadian capital.
Shots have been reported at locations in Parliament Hill, the War Memorial in Ottawa and now in close proximity to the city's main shopping mall. Police confirmed that the shooting did not take place inside the shopping complex.
Canadian police have revealed that multiple gunmen are involved in the attack. Latest reports from the scene suggest up to three shooters, while social media reports state that there could be as many as five.
One soldier was shot and wounded at the War Memorial in Ottawa by one gunman before being chased by police inside the main parliament building.
The wounded soldier was taken into an ambulance where doctors were giving him cardiopulmonary resuscitation.
Armed officers are conducting building to building searches around Parliament Hill while employees remain in lockdown inside the building following an earlier firefight.
The first footage has emerged of the exchange of fire between one gunman, who entered the Canadian Parliament, and local authorities.
Over 30 shots can be heard in the exchange. The outcome of the firefight is currently unknown but it is reported that one gunman has been shot dead inside the parliament building.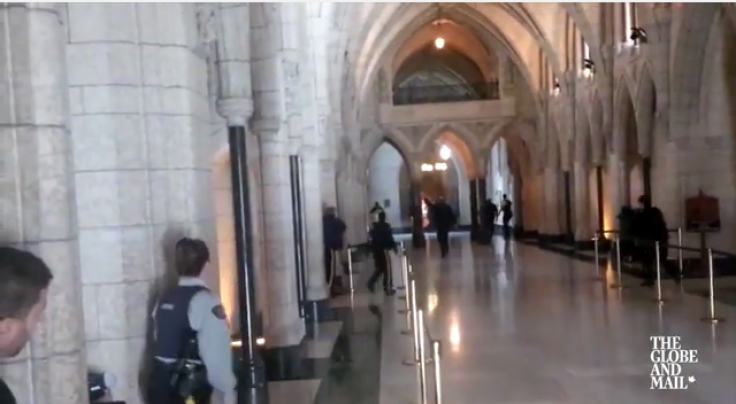 The capital is on lockdown and the Canadian Prime Minister Stephen Harper's director of communications tweeted that the North American leader "is safe and has left Parliament Hill".
The attack comes just a day after a 25-year-old Muslim convert was shot dead by police after he killed a Canadian solider and injured a second near Montreal.
Police said the man, Martin Couture Rouleau, had recently become influenced by radical Islam, with friends suggesting he acted in response to an appeal by the Isis (Islamic State) group for jihadi sympathisers across the world to launch 'lone wolf' attacks on westerners "wherever they can be found".
Canada raised the terror threat level in the country from low to medium following the attack.
© Copyright IBTimes 2023. All rights reserved.