Ottawa Shooting: Terrified Witnesses Believed Gunfire Noises Were 'Ceremonial Shots'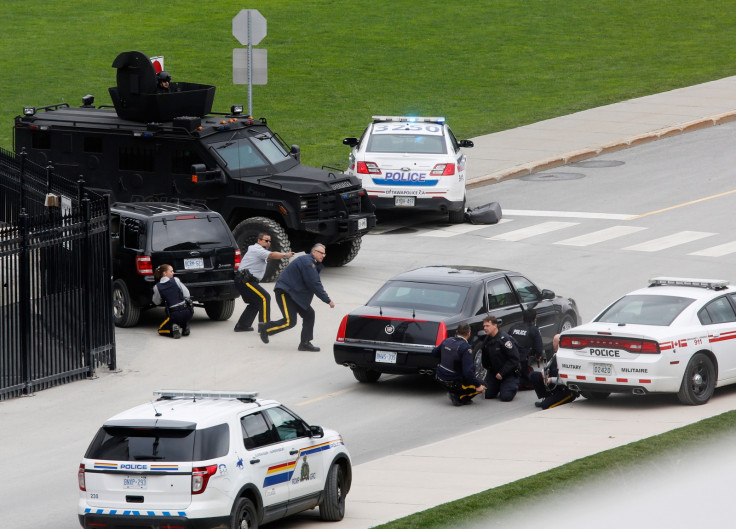 Witnesses of the shootings in Canada's capital that resulted in the death of a soldier and a suspected gunman have spoken out about their traumatic experiences.
Onlookers have described how they hid behind walls when the gunman, named as Michael Zehaf-Bibeau, opened fire at the National War Memorial before storming Ottawa's parliament buildings.
Cpl. Nathan Cirillo, 24, a reservist with Argylls of Canada, died from his wounds. Three other people were treated in hospital and released by the evening. The gunman was shot dead by Sergeant-at-arms Kevin Vickers, 58.
Raivo Nommik told the Toronto Sun that he was near the monument when Zehaf-Bibeau opened fire, initially believing that the gunfire noises were "ceremonial shots".
"And then I saw the guy with the rifle and I saw the second soldier there running. He ran over one of the walls here and I just ducked down behind the wall until the shots had stopped."
Nommik then called the police and gave a description of Zehaf-Bibeau.
Jan Lugtenborg, a tourist from the Netherlands, told the newspaper he was waiting for a sightseeing tour bus when the first shots were fired.
"We were scared like hell," he said.
Another witness, Chuck Bromley, described how the gunman fired several shots before running towards a car park behind the War Memorial.
"He was over by the War Memorial and he fired off four shots and then he took off toward the Parliament Buildings, jumping over the hedge, jumping over the fence. I don't know where he went from there," he said. "There were people running after him."
Canada's prime minister Stephen Harper has insisted his country will not be intimidated. He described the attacker as a terrorist and promised to "redouble" anti-terror efforts.
On Monday, a Muslim convert killed a soldier in Quebec. Harper described that earlier attack as a plot inspired by the Islamic State militant group.
In a televised address after Wednesday's shootings, Harper said: "We will not be intimidated. Canada will never be intimidated.
"In fact, this will lead us to strengthen our resolve and redouble our efforts... to take all necessary steps to identify and counter threats and keep Canada safe."
He admitted the attacks showed that the country was "not immune to terrorist attacks".
James Watson, the current mayor of Ottawa, released a public statement following the incident, saying: "I am shocked and saddened by what has happened in the last hour in the nation's capital.
"Residents will be kept informed as events unfold."
Before the attack, Canada raised its terror threat level from low to medium. A government official said the move was in response to an increase in online "general chatter" from radical groups including Islamic State and al-Qaeda.
© Copyright IBTimes 2023. All rights reserved.