Outcast promises to be the latest gripping series to hit TV screens in 2016. The drama focusses on the character Kyle Barnes who has spent his entire life being haunted by supernatural demons and seeks the help of Reverend Anderson to exorcise the spirits. The theme of exorcism is running strong in Hollywood and Outcast star Philip Glenister could not be more pleased.
The series, which premieres in the UK on Fox on 7 June 2016, is not for the faint-hearted with the first episode showing terrifying scenes of demonic possession. Glenister, who plays Reverend Anderson, says audiences have always been enthralled with themes of a sinister nature but are increasingly turning to supernatural TV shows and films for escapism.
Glenister told IBTimes UK: "You can't beat a good exorcism. You get the remakes of all these things – The Exorcist, Poltergeist. I think people are just intrigued by the occult. We live in a very scary world, it's changed a huge amount and when you're dealing with subjects like religion, brainwashing people in a cult, that's going to transcend itself into film and storytelling ultimately.
"Funnily enough, our industry is seen as making stories up, fairy tales. But in a roundabout way, it's the whole distrust of the media recently and politicians, church leaders. So people are now looking to the truth coming out of filmmaking and television dramas. You never would have thought it'd be possible 30 or 40 years ago but people are looking for a reason and drama is committed to fulfilling that which I think is fascinating."
Reverend Anderson will soon have a lot on his plate as Kyle, played by Patrick Fugit, asks for his help in ridding the demons. Over the course of season one, it becomes apparent that the holy man can not be taken at face value – like his penchant for enjoying an alcoholic drink despite his religious beliefs.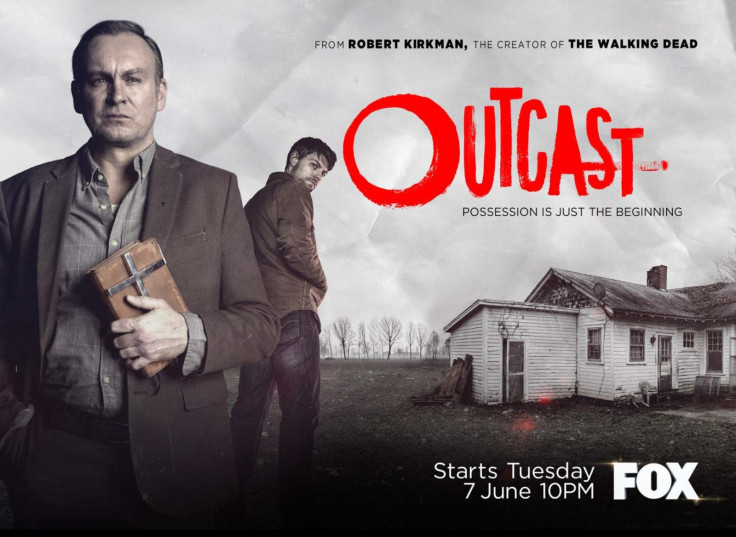 Shedding light on his character, Glenister explained: "It's not something we delve into, it's just an aspect of he's not a conventional man of the cloth. It's much more complex than that when the characters come in. A mysterious figure comes in and it shakes the whole place up and everyone starts questioning things. The reverend is the glue that keeps the community together and starts questioning his faith and belief system because he stupidly gave up his wife and family for the calling of the church."
The British actor continues: "He really starts questioning whether he's done the right thing. It's really hotting up now [as the season progresses]. We didn't want it to be exorcism of the week, that pattern of who's going to be baddie this week or who will be demonised from the village. But there are a few of those which hopefully be unexpected. It's really kicking now and it's always a good sign because I don't like to know too much of what's happening in the comic books. I like to get the script and if it keeps my attention like it has done then I want to keep reading this."
Outcast, which was created by The Walking Dead writer Robert Kirkman, premieres Tuesday 7 June at 10pm on Fox.
Watch the Outcast trailer: