Britain's hosting of representatives from Bahrain, Saudi Arabia, Turkey, Israel, Egypt and the UAE at one of the world's biggest security trade shows next week has caused outrage with human rights campaigners that say UK firms are cashing in on repressive measures used against protesters.
A Home Office sponsored closed door event in Hampshire from 8-10 March will host police and security personnel from 79 countries, a Freedom of Information request revealed Saturday, including a number of nations that are accused of human rights abuses and violence towards peaceful protesters.
But the sale of non-lethal weapons such as riot control equipment and tear gas has become an area of significant growth for British firms, with the Campaign Against the Arms Trade (CAAT) alleging that since David Cameron took power in 2010 the UK has approved 126 licenses relating to the sale of tear gas and other irritants.
The government has also approved 75 licenses for crowd control ammunition such as rubber bullets, 79 for "acoustic" crowd control – known as sound grenades – and 259 licenses for riot shields. The Observer reported on Sunday that in recent years the use of UK equipment has been linked to crackdowns and human rights abuses in Hong Kong, Bahrain, Egypt and Kuwait.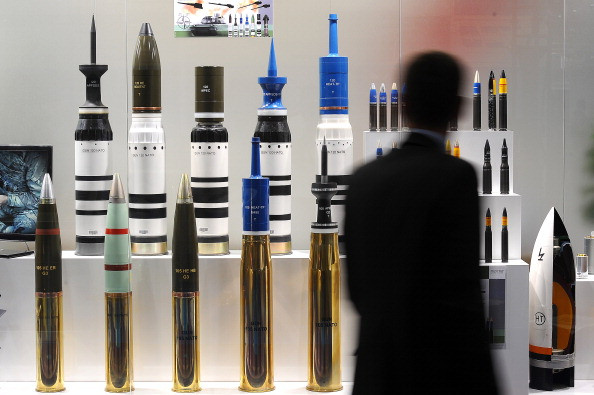 "There are serious questions to be asked about the impact of the so-called 'non-lethal' arms industry. These risks become even more important when these weapons are being sold to human rights abusers and dictatorships," Andrew Smith, at CAAT, told the newspaper.
"[The event] undermines the UK's claims to be promoting human rights while strengthening the position of repressive regimes."
Billed as the Security & Policing Home Office Event 2016, the three-day summit has been defended by the Home Office, which said in a statement to the Observer: "A thriving security industry is vital to help cut crime and protect the public and so it is important these products and services can be showcased and expertise shared."
The event is not the first time that the Home Office has been in hot water over business links to countries with questionable human rights records. It emerged last year that The UK had signed a contract to train Saudi Arabian prison guards despite the country's dismal record when it comes to executions and free and fair trials.
Amidst a storm of publicity, Downing Street announced that it had pulled out of the $9.1bn (£6.39bn) contract following criticism from both Justice Secretary Michael Gove and Labour leader Jeremy Corbyn. The deal only came to light after it was reported by a number of UK-based titles including IBTimes UK.