The sale of UK arms to countries like Saudi Arabia has gone without scrutiny for almost nine months after a key parliamentary oversight committee mysteriously disappeared. MPs and human rights campaigners say they have become increasingly concerned that the committee on arms export controls (CAEC) was not reinstated when the Tory government was elected in May 2015.
The cross-party group was set up to hold the government to account for the lucrative weapon deals it signs with foreign countries, especially those with poor human rights records.
This included shining a light on the £5.5bn worth of fighter jets, bombs and other arms sold by UK companies to Saudi Arabia over the past five years, a country with a notoriously poor human rights record and which has recently faced accusations of committing war crimes during an ongoing conflict in Yemen. Since the conflict began, the UK government has issued a further 37 arms export licenses to Saudi Arabia.
The committee's work – described by former members as often "awkward" for the government – ended when the Conservatives were elected into government in 2015. Its former chair, Sir John Stanley, has now retired and for more than eight months there appears to have been a lack of will to organise a replacement, despite urgent pleas by human rights groups.
Lord Malcolm Bruce, who for years sat on CAEC while an MP, said he was "concerned" the committee had not yet been set up, describing its work as "vital". He told IBTimes UK: "The committee played a valuable role in transparency and allowing the public to see what was happening. It forced a lot of information out of the government about arms exports and it led to quite a few concerns being raised over policy.
"A short delay in setting it back up is understandable but not nine months. In the past we would have been up and running by now.
"Unless the government can give a clear explanation as to what's happened it starts to look like it doesn't want a light shone on its activities. The committee was at times awkward for ministers."
Lord Bruce added that the committee's existence was important "now more than ever", citing UK arms exports to Saudi Arabia. He said CAEC had also been instrumental in helping expose poor practices involving exports to other countries.
In one damning report, the committee discovered more than 3,000 export licences for arms worth £12bn were approved for 28 countries cited by the Foreign Office as having a poor human rights records. Another revealed more than 200 licences to sell UK weapons to Russia were still in place despite a claim by David Cameron that his government had imposed an arms embargo on the country in the wake of the conflict in Ukraine.
The committee's work even uncovered evidence of the UK's "highly questionable" sale of chemicals that could be used as nerve agent weapons to Syria and that it allowed a British company to export instruments of torture.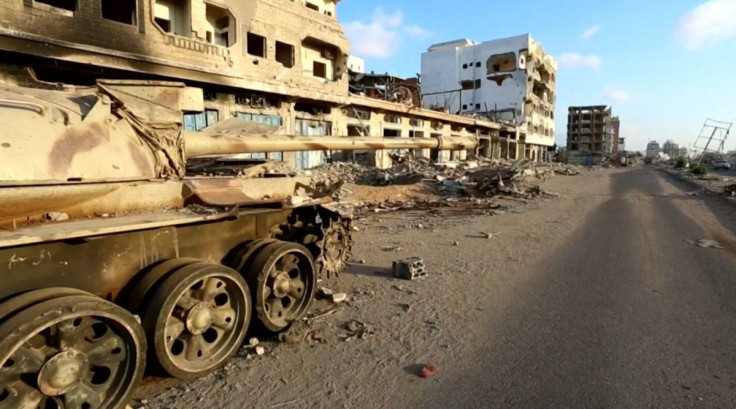 Amnesty UK says it has become increasingly concerned over the committee's ongoing absence, revealing it had been raising the issue with relevant MPs for months. This coincides with its repeated calls for the UK government to immediately stop all arms being sold to Saudi Arabia and for an independent inquiry into recent weapon sales to be set up in the wake of events in Yemen.
Oliver Sprague, Amnesty UK's Arms Control Programme Director, told IBTimes UK: "It's a really big concern. That committee has been instrumental in holding successive governments to account. We were one of the only countries in the world to have something like it. We haven't yet got to the bottom of why it hasn't yet been reinstated and we've been calling for months for it to be up and running again.
"If ever there's a need for the government to be scrutinised, it's now – especially considering what's happening with Saudi Arabia and Yemen."
The Campaign Against Arms Trade (CAAT) also criticised the apparent lack of urgency to reinstate the committee. Andrew Smith, spokesman for CAAT, told IBTimes UK: "It's been a crucial nine months to have no oversight. The committee did great work in the past providing vigorous scrutiny of government policy and a cynic would suggest that's perhaps why there's not been a rush to get it reinstated."
CAAT recently hired law firm Leigh Day to look at taking possible legal action against the government unless it suspends licences allowing UK produced arms to be sold to Saudi Arabia. It suggested the UK government may have failed to follow its own rules when assessing whether exported goods may have been used in contravention of international humanitarian law.
Foreign Secretary Philip Hammond said his department had called for "proper investigations" into the allegations against Saudi Arabia, but added that the UK operated "one of the strictest export licensing regimes in the world".
A clerk for the Foreign Affairs Committee, one of four committees to make up CAEC, was unable to give a reason for why the body hadn't been set up when approached by IBTimes UK. They said individuals were "looking at it".
Hilary Benn, shadow foreign secretary, recently said he had undertaken efforts to discover why CAEC had not been set up, while former committee member Labour MP Ann Clwyd said she suspected there were forces who did not want arm sales scrutinised. She told the Guardian: "There have been more and more delays. I'm very unhappy there hasn't been anything for at least eight months."
The last report published by CAEC was in March 2015, described by committee members as an "unprecedented" look at what UK weapons had been sold to which countries. It called for the government to reinstate commitments it had dropped that meant weapon export licences would not be issued if there were strong concerns they might be used for "internal repression".