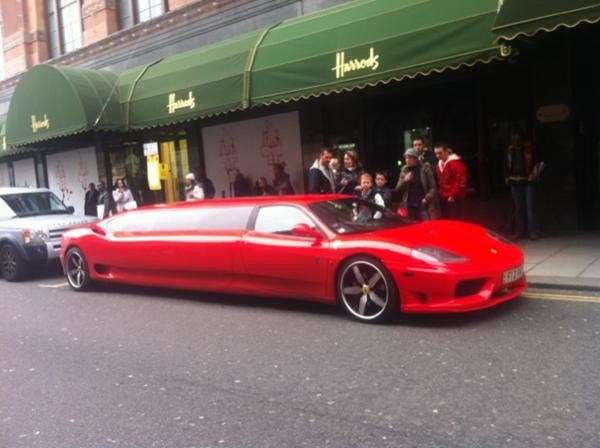 A Christmas shopper has proved that sometimes a regular size car is just not big enough to carry all those shopping bags when they decided to go shopping in a Ferrari stretch limo.
The flashy customised Ferrari turned heads when it was spotted parked outside Harrods department store in West London yesterday.
Passers-by and onlookers stopped to admire the stylish mode of transport and take pictures of the car in all its extravagant glory.
One shopper in upmarket Knightsbridge, London, took to Twitter to share her disbelief when two men pulled up at Harrods in the outrageous Ferrari.
The excited user tweeted: "Just seen a Ferrari Limo outside Harrods...WOW"
The one-of-a-kind Ferrari limo, which was created by a developer in the UK by cutting a regular Ferrari 360 Modena in half and adding a limo style interior in the middle, is available for hire exclusively through Limo Broker.
If you are lucky enough to get your hands on the coveted car it will set you back a staggering £1200 to hire for just an hour and £6000 for 24 hours.