Islamist militants Boko Haram are reported to have attacked the Cameroonian border town of Fotokol, killing over 100 people and burning down buildings.
According to local reports, the group, which had been chased out of the neighbouring town of Gamboru in Nigeria yesterday, slit people's throats in their homes and at the local mosque, which was torched. Six Cameroon soldiers were also reportedly killed.
"Boko Haram inflicted so much damage here this morning," Fotokol resident Umar Babakalli told AFP. "They have killed dozens of people."
A source close to local security sources was quoted as saying: "They burnt houses and killed civilians as well as soldiers."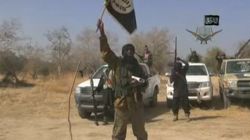 The militants, who have killed thousands of people and displaced millions in a bid to establish a Muslim caliphate in the region, were eventually beaten back by Cameroon troops with backing from soldiers from Chad. The bodies of Boko Haram militants were "everywhere," one source claimed.
The Chad forces are in Cameroon and Nigeria to try and help beat back the militants. Over 200 Boko Haram were reported killed in Gamboru but many more managed to escape. Gomboru and Fotokol are just 500 metres apart and separated by a bridge.
"The insurgents have been driven out," said Cameroon's information minister, Issa Tchiroma. "They tried to surprise us because the Chadian troops who were in Fotokol had crossed over to Nigeria."
Some 2,000 Chad soldiers are believed to have confronted the militants in Gomboru, killing large numbers but sustaining losses themselves. Nine soldiers from Chad were reported killed. Chad commander Ahmat Dari told AFP: "We have routed this band of terrorists." Chadian soldiers would, he said, "hunt them down everywhere."
The African Union has agreed to plans to set up a 7,500 military force from five of the countries affected by Boko Haram's atrocities. The move comes after Nigeria was criticised for not doing enough to fight the group in the northeast of the country, where Maiduguri has been attacked twice this week alone.
Boko Haram have reportedly stepped up their activities to disrupt elections in Nigeria on 14 February.