A bomb has exploded in the north-eastern Nigerian city of Gombe, just 200 metres from a stadium where President Goodluck Jonathan had been holding a political rally. The President, who left the area minutes before the blast, was uninjured.
Reports claim a female suicide bomber blew herself up in a car, which was engulfed in flames. Police say the only fatality was the suicide bomber, though according to AFP rescue workers found the bodies of two females. Several injured people have been taken to hospital.
"The president had just passed the parking lot and we were trailing behind his convoy when the explosion happened," witness Mohammed Bolari told AFP.
It is unclear whether the attack was the work of Islamist group Boko Haram, who have attacked Gombe before. On Sunday 1 Feb a suicide bomber killed five and injured eight near a mosque in the city's market area. Last December 15 were killed in an explosion at the city's bus station.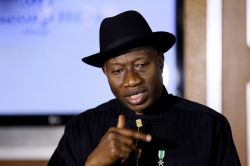 President Goodluck has cancelled a visit to the neighbouring state of Yobe, which has also been affected by Boko Haram violence. On 14 February he stands for re-election against Muhammadu Buhari, a former military ruler. The election between Jonathan's People's Democratic Party's (PDP) and Buhari's All Progressives Congress (APC) is thought to be the most closely-contested since military rule ended in 1999. However there have been several clashes between supporters of the rival parties in which several have been killed.
Meanwhile three bombs ripped through court buildings in three towns in the Rivers state, an oil-producing region of southern Nigeria not thought to be at risk. No-one was injured in the blasts but local media said that in Degema, the court building was destroyed and documents destroyed.
It is thought that since January 2014 Boko Haram have killed up to 10,000 people in northern Nigeria, where they want to establish a caliphate. This weekend the militants again tried to attack Maiduguri in the northeast but were repelled by vigilantes and the military, with hundreds of militants reported dead.
1.5 million people from the region have been displaced by the violence but Amnesty International and other human rights groups claim the government has also carried out atrocities.